Dancer wins Denver Ballet Guild award and invitation to compete at international level
May 1, 2018
/
/
Comments Off

on Dancer wins Denver Ballet Guild award and invitation to compete at international level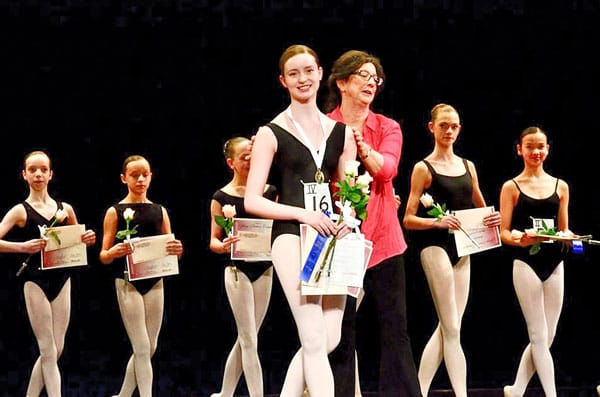 Alexandra Gray of Castle Pines Village is the Denver Ballet Guild's first place winner, the recipient of the Florence Ruston Medallion, and has been selected to compete in the very prestigious USA International Ballet Competition in Jackson, MS in June. Gray said, "I love to dance because it is a chance for me to step away from my usually shy self and to become a character who can tell a story that impacts others."


By Lisa Nicklanovich; photo courtesy of the Denver Ballet Guild
Alexandra Gray, life-long Castle Pines resident, is the Denver Ballet Guild's womens senior first place winner and recipient of the Florence Ruston Medallion, a prestigious award for a dancer who displays overall excellence. Gray was also selected to compete in the USA International Ballet Competition (USA IBC) in Jackson, Mississippi in June.
Gray, a 16-year-old junior at Valor Christian High School, has been dancing since she was 3 years old. Gray said, "Even when I was little I realized that I could never live without ballet." Gray remembers having to choose between ballet and all other activities, including birthday parties, and always choosing to go to ballet.
Gray's commitment now is as strong as ever. Ballet classes including technique, variation, pas de duex, character and contemporary classes are hours long each day, in addition to school. To prepare for the upcoming competition in Mississippi, which is considered the world's most prestigious ballet competition, Gray has additional private lessons during her off periods at school and during lunch; really, every free moment she has.
"As hard as I work as a ballerina, I also try to keep my education up to the same level. This year that meant taking six advanced placement classes," Gray said. Gray has been a member of the honor society all three years of high school. Balancing school work with dancing means giving up many of the things many teenagers get to do. Gray exclaimed, "I've never been able to go out with friends after school, or to do much on the weekends, which makes me very different from the average teenager, but I don't mind."
Gray added, "I am extremely honored to have been selected to compete in the USA IBC. The competitors are selected from all over the world by a panel of highly distinguished judges, including ballet masters and directors from international companies. I realize that just competing is giving me more exposure to the ballet world than I have ever had before and it provides countless opportunities to be seen by school and company directors that could be the key to getting a foot in the door to becoming a professional dancer. This competition means an opportunity to grow and improve and to get a start on my professional career."
Although Gray is entirely committed to her goal of becoming a professional ballerina, she said that if it doesn't work out, she would love to go to Duke University and become a biomedical engineer.