DCS Montessori water project helps quench thirst in Africa
January 1, 2016
/
/
Comments Off

on DCS Montessori water project helps quench thirst in Africa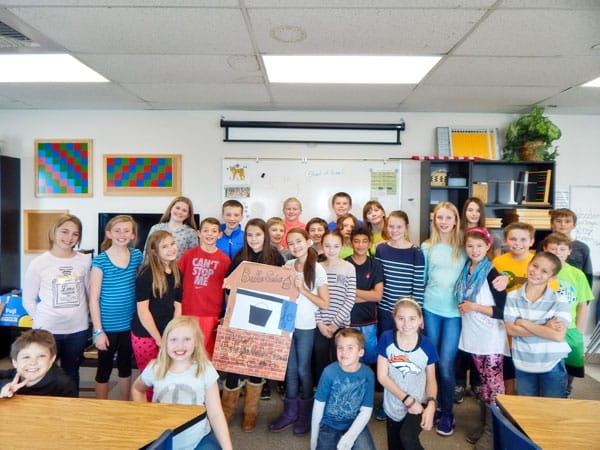 DCSM upper elementary students are all smiles, knowing their holiday bake sale proceeds went toward purchasing a partial well for The Water Project, an organization with the mission to provide safe, clean water by supplying wells to needy villages.
By Lynne Marsala Basche; photo courtesy of DCS Montessori
For the past five years, Karen Aschenbrenner's DCS Montessori (DCSM) upper elementary students hold a holiday bake sale with the proceeds going to a selected charity. The impetus for the event is to give students a greater understanding of empathy and charity. This year's sweet treat earnings are helping to fulfill a basic need across the world … water.
DCSM fourth through sixth grader students researched the necessity of water and how, without this fundamental resource, children are suffering and dying in Africa. After being introduced to The Water Project, the students became passionate about the organization and its mission to provide safe, clean water by supplying wells to needy villages.
A well costs approximately $10,000 and the $538 bake sale proceeds will contribute to that. According to Aschenbrenner, "Everyday in rural communities and poor urban centers throughout Africa, hundreds of millions of people suffer from a lack of access to clean, safe water. Room 8 is going to make a difference today!"
The students will learn which well they are helping to supply and will track the progress of their well throughout the year by using online tracking tools such as GPS coordinates, photos, and other information. The ongoing monitoring allows DCSM students to see how their well is impacting the village's children.
The Water Project exposed DCSM students to the realization that there are children who walk for miles each day just to get dirty water, and it is a basic need that is sometimes taken for granted. "It is amazing to learn about the struggle others have just getting clean water. The Water Project has shown us this," said Castle Pines resident and student Courtnae Moran.
Aschenbrenner is correct – room 8 is making a difference. Not only have the DCSM students raised money for a well, they learned about other's struggles, and that will stay with these DCSM students for years to come.