DCS Montessori's Furry New Friend
November 1, 2018
/
/
Comments Off

on DCS Montessori's Furry New Friend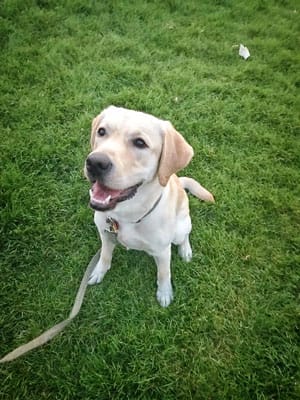 Walker excited to start his first day of school with DCS Montessori.
Article and photos provided by DCS Montessori
DCS Montessori has a new student!! Walker the yellow Labrador retriever is a service dog in-training and will be bringing a new dynamic to Chris Scovil's classroom as their official mascot. Walker is a member of the Canine Partners of the Rockies (CaPR). Julie Weber, Scovil and all the students in their class are "volunteer puppy raisers." Walker is a service dog "in-training" which means his specific skill has not been identified yet. He will be part of Classroom #12 for the 2018/2019 school year and live with Weber.
CaPR raises, trains and places highly-skilled service dogs with Coloradans with a variety of disabilities, and Walker has a lot of work to do to get to his certification as a service dog. DCS Montessori and the students of Scovil's classroom have the unique opportunity to help Walker find his beautiful purpose.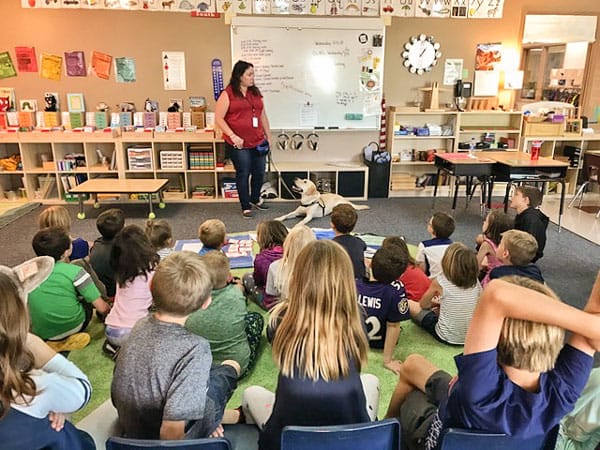 DCS Montessori students are so excited to meet their new service dog-in-training, Walker. Walker will be the classroom's official mascot.
What is a CaPR service dog you ask? CaPR trains mobility service dogs and facility intervention dogs but specializes in training dogs for mobility assistance. These dogs assist people with mobility -limiting disabilities. These specially trained dogs help by retrieving objects, pulling wheelchairs, opening and closing doors, turning light switches off and on, barking to indicate that help is needed, and finding another person and leading the person to the handler. A facility service dog is specially trained to work in tandem with a professional who works with people with disabilities. An intervention dog may provide support in one or more locations with their professional.
Walker celebrated his first birthday on October 24. Happy Birthday Walker and thank you for being a beautiful part of our diverse community. You truly bring new joy and new friendship to our amazing school.