November 1, 2018
/
/
Comments Off

on Fishing Day with Mr. S!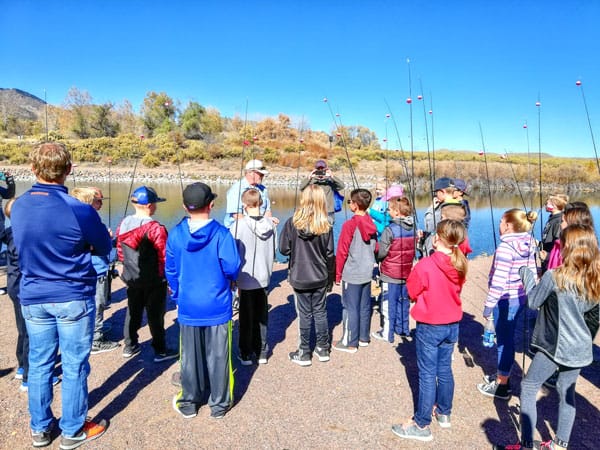 Poles in hand, fifth-grade students at Sage Canyon Elementary learned proper techniques prior to trying their hands at fishing.
Information and photos provided by Lance Schoenwald
On October 18 and 19, a group of 120 fifth-grade students from Sage Canyon Elementary attended "Fishing in the Schools Program" hosted by Colorado Parks and Wildlife at Lehow Lake.

This was the first time the school attended the program. When asked "why take students fishing?" Lance Schoenwald, Physical Education teacher at Sage Canyon commented "I've been trying to get this set up for a couple years now. As part of Adventure Education we do rock climbing, high ropes and archery already, so this is just another spoke in the wheel."

Out of 120 students, almost one quarter have never even held a fishing rod before, and by the end of the day they were all catching fish!

The morning session consisted of learning about the different fish species in Colorado, wildlife conservation, identifying fish, and proper handling of a fish after you catch it. Students then learned how to cast the fishing rod and reel it in. The afternoon was spent at Lake Lehow fishing with a lot yelling, "Fish on!"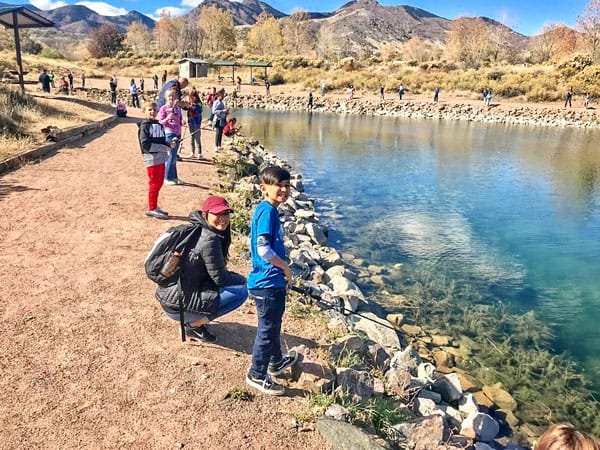 This student waited patiently for a fish to bite, hoping for an opportunity to reel one in.

This was such a great experience for the students and everyone had a great time! Sage Canyon feels very blessed to have an administration team of Mandy Hill, Kelsey Shoultz and Stephanie Crowe, who allow the teachers of Sage Canyon to teach "outside the box." They would also like to thank Howard Horton, Alex Doehling and the volunteers from Colorado Parks and Wildlife that put on the program.