For the fun of it all – pickleball
November 1, 2018
/
/
Comments Off

on For the fun of it all – pickleball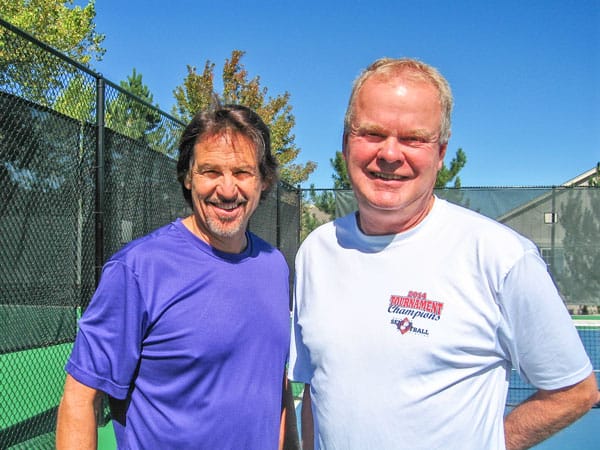 Clyde Ullrich (left) and Gary Conder (right) enjoy a sunny day in The Village at Castle on the pickleball court.
Article and photos by Barbara Neff
Take a walk through a park on any sunny Colorado day and you will likely hear the echo of a ping and a pong. It is not quite the sound of tennis, and certainly not the sound of a ball being dribbled; it is pickleball, after all.
Today, the volley you hear in parks and near tennis courts will likely be the volley of a bright yellow whiffle-style ball being smacked back and forth across a net by players with oddly large paddles. Step closer and you will also surely hear the accompanying laughter. It is pickleball, and it is the newest sports craze in Colorado.
Pickleball has become quite the outdoor obsession locally and across the nation in recent years. Played on courts half the size of tennis courts, pickleball is a fun game for singles and doubles that can best be described as stand-up ping pong. Players seem to agree that, due to the small court and the easier-to-handle equipment, pickleball is less strenuous than tennis and demands less athletic prowess, making it the darling of all age groups, particularly the 55-plus crowd.
Until this year, most people had not heard of pickleball, though the fun game has been around since 1965, according to pickleball.com. Three dads from Bainbridge, Washington, Joel Pritchard, William Bell and Barney McCallum, invented the game to entertain their children. Quickly, children and adults alike were in love with pickleball. The odd name is a mystery, even to the founders. Though several good theories circulate regarding the origin of the name, the truth is that the Bell, McCallum and Pritchard families themselves are not sure how pickleball got its name.
Douglas County resident Clyde Ullrich counts himself among the many local pickleball enthusiasts. Ullrich believes pickleball is much easier to play than tennis or racquetball, making it better suited to certain age groups.
"Pickleball require less running and is easy to learn," said Ullrich. He added, "Staying active is easier when you are doing something fun."
Gary Conder, also a Douglas County resident, is hooked on pickleball. He described being nagged by friends to play this game with the odd name, then quickly falling in love with it.
"It's the perfect game for seniors," said Conder. "It can be played as mild or as wild as you wish. It is great exercise, helps with balance, leg strength, peripheral vision and reflexes. It is one more thing to do that gets you outside and keeps you active, which is the key to longevity, health and happiness."
In Douglas County, public courts are few and lines of waiting players are often long, which lends to the social aspect of the game. A comprehensive list and map of all nearby pickleball courts can be accessed via Google using search words: pickleball courts near me.