Domo Arigato Rocky Heights roboto
December 1, 2014
/
/
Comments Off

on Domo Arigato Rocky Heights roboto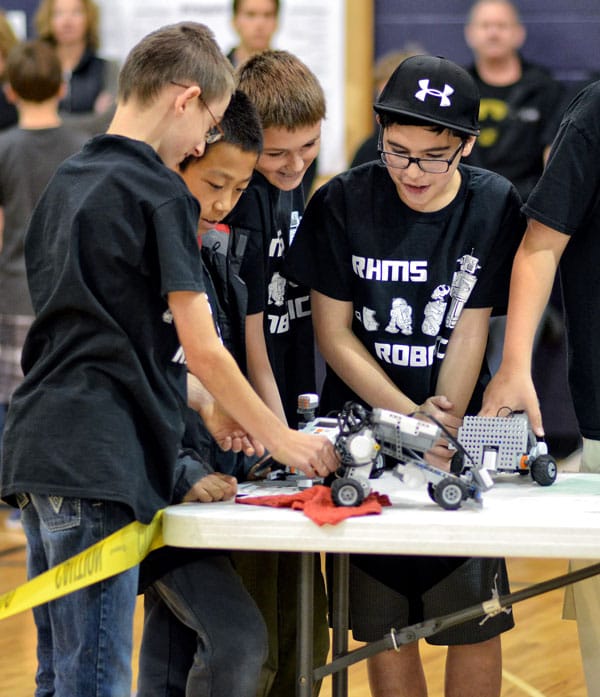 The Robotics team at RHMS took home numerous awards from the district-wide Robotics Tournament held on November 15. The competition sparked the creativity of the students who worked so hard to master the art of creating a working and functioning robot.
Submitted by eighth grade student Riley Busch; photo courtesy of eighth grade student Sydney Manning
"They used as many pieces as they could possibly find to do whatever this robot could do, and it was left to their own imagination. And so, you might find this somewhat entertaining, and somewhat fascinating," Rocky Heights Middle School (RHMS) teacher and Robotics team coach Cameron Randolph pronounced to the crowd at the annual Robotics Tournament on November 15. The competition was about to begin. Everyone, start your robots!
After nearly a semester of work, students from all around the Douglas County school district flocked to RHMS to represent their schools. There were approximately 56 RHMS Nighthawks who competed, all separated out into 18 teams.
The students worked hard to prepare their bots to represent the best of their school and their team. With a variety of competitions to compete in, such as Robo Dance, Mars Rover, and Open Design, there was always something to do. On the 15th, everyone came ready to put their little LEGO creations to the test. After a quick speech in the opening ceremonies, the competition began! People were scattered all throughout the gym as well as basecamp waiting to show off what they could do.
The variety in the robots was astounding! Some were short, some were tall, and some were just a square shaped jumble of gears and parts. The most amazing thing was that every single team had the exact same kit to build with. They were all given the same parts, same programming system, same everything.
Lots of preparation was required by all schools to compete. Izzy Weiss, a student at RHMS was unsure as to how well she would do in the tournament and remarked, "Well, I probably won't do that well. But I love the experience of just trying, because I've never been in a competition like this before. It's a really fun experience."
When asked what his favorite part of robotics was, Mr. Cullen Hilsendager, a RHMS teacher and coach for the Robotics team replied, "I love watching kids get so excited when something they worked so hard on is competing."
After a long morning of robots against robots, the results were calculated. It wasn't a huge surprise that RHMS rocked it! Teams overall won six first place prizes, six second place prizes, and three third place prizes. Nighthawk pride!