Sage Canyon Elementary celebrates the fall harvest
December 1, 2014
/
/
Comments Off

on Sage Canyon Elementary celebrates the fall harvest
Cowgirls McKenna Deckert (left) and Maddie Hill sample goodies made from fruits and veggies at Sage Canyon Elementary's annual harvest festival and farmer's market.
Article and photos by Lisa Crockett
Harvest has always been a time to celebrate the bounty of the season, and the tradition of a Harvest Day festival is alive and well at Sage Canyon Elementary school (SCE) in Castle Rock. This is a celebration with a twist, however. Instead of simply admiring and eating the fruits and veggies that the season brings, students get up close and personal with them – following their life and growth cycle, learning how they are used and what their health benefits can be. Several students even don produce-themed costumes.
"Students learn about different crops that are grown and harvested in and around Colorado," said SCE Principal Mandy Hill. "Planning is incorporated into class and kids help design their costumes and banners. We pair our older classes with younger classes so that there is lots of collaboration between kids and it truly becomes a school-wide event."
A lot of that planning Hill refers to has to do with the farmer's market, one of the main features of the festival. At the market, younger students are paired with older ones to plan a booth that will sell one type of produce. Everything from wheat to cherries is represented and student imagination and ingenuity is in abundant supply. At the apple booth, freeze-dried apple snacks sit alongside applesauce and apple pie. At the corn booth, sixth grade students regale customers with "corny" jokes with every purchase.
Treats and snacks at each booth cost just 25 cents, which makes it affordable for students to sample a few items while conversing about just exactly how that food made it from the farm to their mouth. The money raised is also put to good use.
"At the end of the day we take all of that money and add it to the student-to-student scholarship fund which benefits a Douglas County High School senior who has spent their educational career in our feeder area," said Hill. "It's such a great cause!"
The day culminates with a parade, and students wear their costumes – whether they be a banana, a blueberry or a peach – with pride.
"I personally love the parade," said Hill. "All of the kids are dressed up and parents are cheering. It's such a great community event."
All about apples: Sixth graders Kathwren Benton and Greg Gould run a booth dedicated to the fruit as part of Sage Canyon Elementary's celebration of the fall harvest.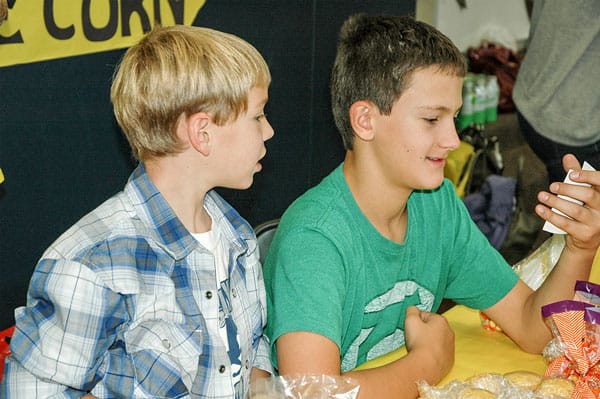 Sixth graders Levi Johnston (left) and Zach Chaput tell "corny" jokes at their farmer's market booth, which had a corn theme.