Three Castle Pines students were superstars
December 1, 2014
/
/
Comments Off

on Three Castle Pines students were superstars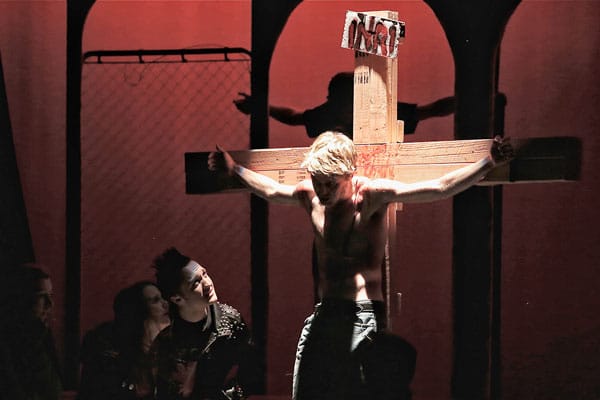 This dramatic scene of Jesus on the cross closed out Regis Jesuit's production of "Jesus Christ Superstar." (Photo courtesy of Jeff Harpham)
By Amy Shanahan; courtesy photos
Regis Jesuit High School (RJ) was excited to produce its first musical in the school's all-new Z Theater in the recently constructed Performing Arts Center and Student Commons.
"Jesus Christ Superstar" played to sold-out audiences during the weekend of November 14-16, and three Castle Pines residents were thrilled to be a part of this historic performance. Timothy Toole, Nora Gentile and Alexis Wilderman all had substantial roles in this wonderful and raucous interpretation of the 1970 musical from Andrew Lloyd Weber and Tim Rice.
Set to a soundtrack of rock 'n' roll, "Jesus Christ Superstar" tells the story of the last week of Jesus' life. This production was set in more modern times with Jesus and his followers living on the streets of the inner city, spreading the love of God and their love of rock 'n' roll music.
RJ junior Timothy Toole tackled the role of Pontius Pilate and gave an amazing performance. Toole remarked, "The show was extremely successful! We all pitched in and created an absolutely awesome show and I was infinitely proud of the result. We were thrilled when we sold out all seven performances."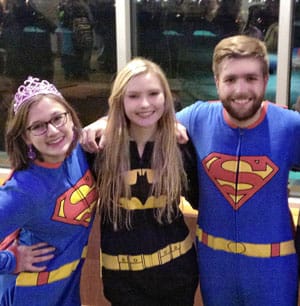 Left to right: Nora Gentile, Alexis Wilderman and Timothy Toole are three local students at Regis Jesuit who performed in the recent production of "Jesus Christ Superstar." The show was full of outstanding performances and fabulous music, and was the very first musical performed in the new RJ theater. (Photo courtesy of Patti Toole).