Douglas County Senior Initiative seeks input
September 1, 2013
/
/
Comments Off

on Douglas County Senior Initiative seeks input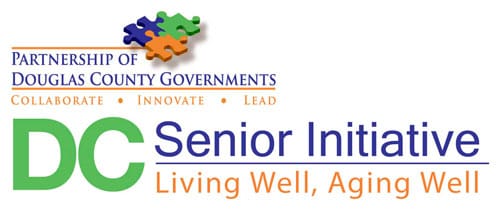 By Elizabeth Wood West
The Colorado State Demography Office estimates that by 2030, one in four (or approximately 24 percent) Douglas County residents will be age 60 or older. According to the U.S. Census Bureau, the median age for residents in the 80108 zip code, although steadily increasing, is not necessarily representative of the state's findings. This demographic group's median age was 39.1 in 2010, 39.4 in 2012, and is projected to be 39.5 by 2017.
The Partnership of Douglas County Governments (PDCG) made the decision in early 2012 to establish the Douglas County Senior Initiative (DCSI) and focus on the impacts this growing demographic will have on the communities and citizens served by PDCG members. PDCG is a collaborative group of local governments, towns, and districts, and includes the City of Castle Pines, the Town of Castle Rock, Douglas County, Douglas County Libraries, the Douglas County School District, the Highlands Ranch Metro District, the Town of Larkspur, the City of Lone Tree, and the Town of Parker.
PDCG's Senior Initiative Advisory Committee has contracted with the CU Denver School of Public Affairs to help implement the DCSI. The overall purpose of the DCSI is to gather input from citizens and service providers in order to identify the needs of the elderly, determine how those needs are or are not being met, and to develop regular two-way communication regarding resources and programs between Douglas County community leaders and citizens. Implementation of the DCSI will include a survey and community meetings ("listening tours") to be held at different locations throughout Douglas County until mid-September.
According to Douglas County Commissioner Jack Hilbert, Douglas County has the fastest aging population in the state. Hilbert explained his view of the DCSI by saying, "We want to know what you are experiencing. What is available to you? Do we have the services for seniors? How do we relay information and resources to you? Where are the gaps?" Hilbert suggested that the County's role could include looking at regulatory changes in zoning, building codes, fees, and working with local businesses to address housing, services, and other resources for seniors. "This is not another government hand-out, but is a way the county and businesses can help meet the elderly's needs." said Hilbert.
DCSI member Barbara Drake said that an interim report should be ready for presentation to PDCG by October and a final report with recommendations ready by the end of 2013.
For further information, e-mail Valerie Robson or call 303-814-4374. To take the Douglas County Senior Initiative survey, visit
https://www.surveymonkey.com/s/LivingWellandAgingWellDouglasCounty.