September 1, 2013
/
/
Comments Off

on Five years strong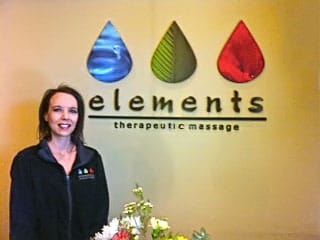 Information and photo provided by Elements
Business owners (and Castle Pines Village residents) Mark and Kristin Adams are celebrating their fifth anniversary since opening Elements Therapeutic Massage studio in Castle Rock. A celebration open house is planned for September 7 at the studio.
"We're celebrating by thanking all of our clients, past and present who have helped make our business a reality," said Kristin. "Not only are our clients the best, but our community has played a role in our success. Living in Castle Pines Village myself and being a member of the Castle Pines Chamber of Commerce, I see value in partnering with local businesses to support each other and build strong relationships."
The staff at Elements is deeply committed to the health and well-being of their clients. Opened on August 24, 2008, Elements Therapeutic Massage in Castle Rock has been providing relief to people of all walks of life, from the competitive athlete to the home gardener or the over-stressed business person.
Elements' massage approach is therapeutically-designed to match clients with the therapist and the specific technique that is best for their unique health and wellness situation. The Castle Rock studio has 14 massage therapists who customize each massage session to the specific needs of every client.
"We hope that everyone will come help us celebrate and we look forward to continuing to serve the needs of this community," remarked Kristin. For more information, visit www.elementsmassage.com/castlerock.