Elderly drivers take to the roads in record numbers
June 1, 2018
/
/
Comments Off

on Elderly drivers take to the roads in record numbers

Article and photo by Barbara Neff
By 2030, a whopping 46 million drivers in the U.S. will be over the age of 65, which will represent 25 percent of the total driving population, according the American Automobile Association (www.seniordriving.aaa.com).
In a comprehensive 2015 publication by Bruce J. Winick and Alina M. Perez, "Aging, Driving and Public Health," the risks aging drivers impose and how these risks can be addressed are carefully examined. Winick and Perez advocate that when it comes to older drivers, our aim as a society should be to balance individual well-being with common good, a balance we as a society strive to strike in all public policy.
Interestingly enough, Allison Moragne, a local independent insurance agent with more than a decade of experience in the industry, stated that her professional experience with older drivers does not bear out the notion that they present a hazard on the road. When asked if she receives a disproportionate number of claims for damages in vehicular accidents among her elderly customers, Moragne stated, "I specifically have not seen that in my clientele."
Coloradans age 66 or older are eligible to renew their driver's licenses either in an office or by mail, according to the Colorado Department of Revenue. In an office renewal, they are required to pass an eye exam. If renewing by mail, an eye doctor needs to sign off that their vision meets requirements. Additionally, drivers of any age with health concerns that affect their driving may be required to re-take the written or driving test. This request can be made by the individual through self-declaration or by their doctor, a family member, Department of Motor Vehicles employee or law enforcement.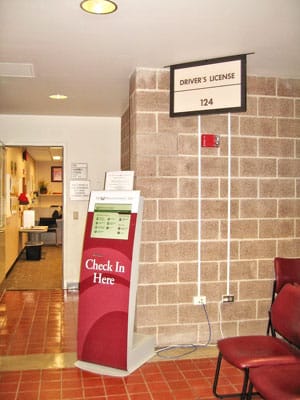 Douglas County residents enjoy the convenience of a driver's license office in Castle Rock at 301 Wilcox Street.
Our love affair with cars in the U.S. runs deep. The ability to drive represents much more than transportation. Driving is essential to maintaining independence, ties with friends and family, taking care of our own basic needs, keeping ourselves involved, and sometimes earning a living. Loss of driving privileges potentially stigmatizes older drivers and may close the door to a familiar way of life. Many aging drivers loathe to acquiesce. For this reason, more states might soon be changing the rules for the licensing of older drivers in the interest of keeping the roads as safe as possible for everyone.
For ideas on how to start the conversation with a loved one about handing over their keys, visit AgingCare.com, "Taking the Car Keys: What to Do If an Elderly Loved One Won't Give Them Up."