Family game fosters feelings of community
July 1, 2019
/
/
Comments Off

on Family game fosters feelings of community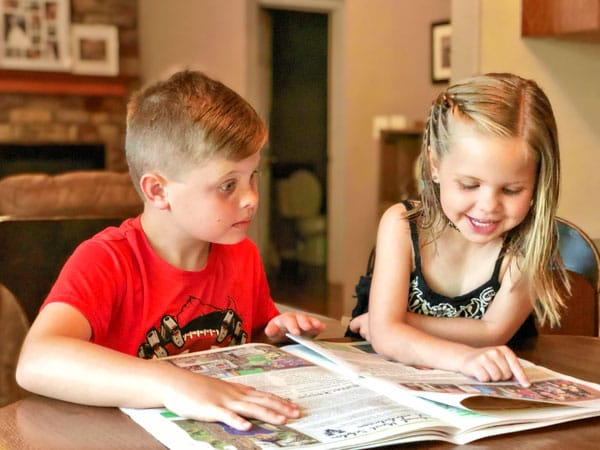 Delaney Musick spots a photo of her brother, Brennan, in the June issue of The Connection.
By Celeste McNeil; photos courtesy of Judah Musick
"Community is like a big family" said the Polish sociologist and philosopher Zygmunt Bauman. It's knowing your neighbors and running into friends and teammates at the grocery store. Community is a sense of comfort and belonging; a network of helping hands and listening ears for the difficult times. One local family has felt connection and belonging since moving to Castle Pines in 2011.
Judah and Shanna Musick began a monthly tradition when they established their family in Castle Pines. It is going strong eight years later, and their two children, Brennan and Delaney, eagerly participate. Every month, when The Connection arrives in their mailbox, it signals a bit of family time and a lot of fun. They sit down together looking through the paper page by page. Their goal: "to find a picture or an article about someone that we personally know. This could be someone the kids go to school with, a friend, or someone on a sports team" said Musick.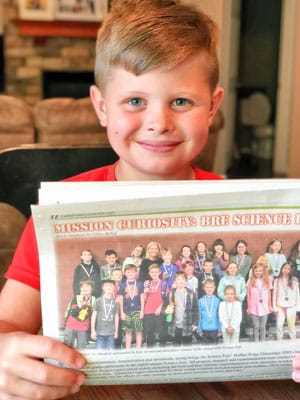 Brennan proudly displays a photo of himself in The Connection.
Ninety-six issues of The Connection have arrived in the Musick's mailbox. "There have been many times where we get super nervous because it has come down to the last page or two and we don't think we will find anyone, and then sure enough we do (this month is a guarantee!). Castle Pines is such a small and tight-knit community, that so far we have been able to find a personal connection in every issue!" Musick said. "We are often surprised by the diversity of stories and people that we find in The Connection. It's not the same people every time, which is why it is so much fun!
Their personal attachment with the newspaper's "a little good news" helps the Musick family feel connected. When asked about how The Castle Pines Connection helps foster community for them, Judah said, "The newspaper makes us feel connected to the community because it's so personal. We have never lived in a place that had so much intentional community behind it, and it just makes it all that much better to have a paper that reinforces those friendships and connections."
The late Scottish politician Charles Kennedy said, "Quality of life actually begins at home – it's in your street, around your community." The 80108 community provides a great quality of life. Judah agrees saying, "It's great our kids get to experience this type of community. I feel this is just as important to our kids as it is to us!"