Flat Stanley travels around the world via second graders at Buffalo Ridge
April 1, 2011
/
/
Comments Off

on Flat Stanley travels around the world via second graders at Buffalo Ridge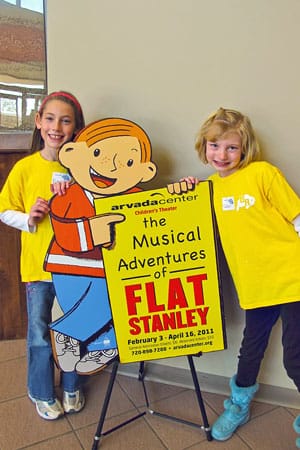 Cailin and Libby, second graders in Mrs. Shepherd's class, get set to see the Musical Adventures of Flat Stanley,
on February 11, at The Arvada Center.
(photo provided by Cari Ogg)
Article by Elean Gersack
Flat Stanley, the famous flattened boy from the book series by Jeff Brown, has traveled around the world in recent weeks on behalf of second graders at Buffalo Ridge Elementary School (BRE). Students geared up for this geography unit by reading Brown's original book and by taking a field trip to the Arvada Center to see The Musical Adventures of Flat Stanley.
Brown's book begins with Stanley Lambchop awakening to find he has been flattened by a falling bulletin board. After a trip to the doctor confirms his flatness won't slow him down, Stanley discovers many advantages of being flat – like being able to fit in an envelope to take a journey via postal mail to visit friends in California. His parents simply affix postage and send him on his way. Stanley's journey ensues much fun and adventure and provides globe trotting inspiration to young readers.
BRE students created their own Flat Stanleys. Some looked like Stanley and some looked more like their second grade designer. They all took flight in envelopes to destinations across the world to enjoy an adventure of a lifetime with the simple request of being returned safe and sound with details of the trip.
Once returned, students shared Stanley's journey with classmates. Devin, a student in Betty Coombs' class, sent his Stanley to London where he was able to visit historic attractions like Big Ben, Buckingham Palace, and The National Gallery. "I learned that there are lots of places I want to discover," said Devin.
Some of the other Stanleys from Mrs. Coombs' class visited places in the United States. Mary sent hers to her grandmother in Omaha, Nebraska because she wanted to send it to someone she loved. Lauren sent hers to Austin, Texas where it traveled to a historic and haunted hotel, The Driskoll. Jacob's Stanley saw more than 32,000 gallons of nacho cheese while at Busch Stadium in St. Louis, Missouri, home of the St. Louis Cardinals.
According to Coombs, this unit not only teaches about geography, but also about how to write letters and thank you notes, how to address an envelope, and how to share information in front of the class. "The kids get so excited to see what Stanley has done," said Coombs.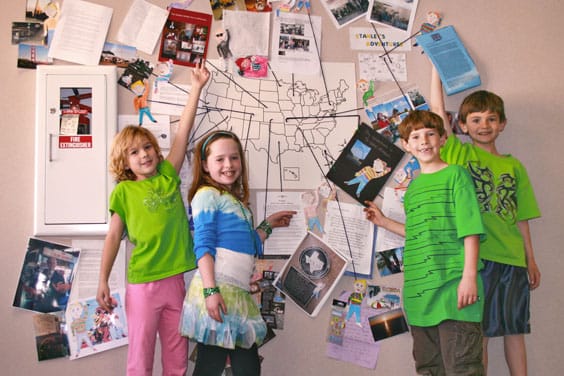 Mary, Lauren, Jacob and Devin point to their "Stanleys" on Mrs. Coombs' Flat Stanley wall at BRE. (photo by Elean Gersack)