Former mayor Jeff Huff looks back on his terms
February 1, 2018
/
/
Comments Off

on Former mayor Jeff Huff looks back on his terms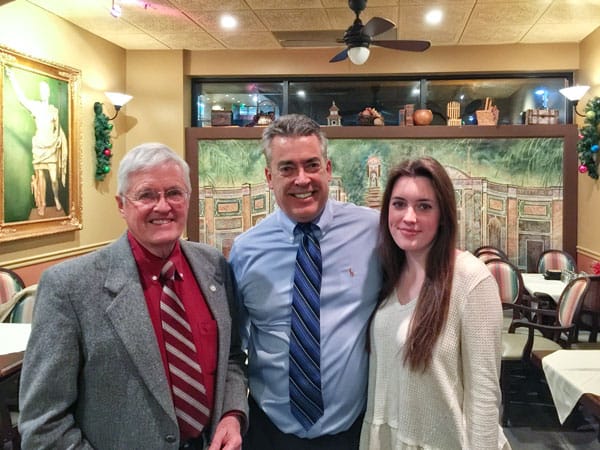 Former mayor Jeff Huff took a moment to smile for the camera with his daughter Elena (right) and John Beckwith (left), a board of trustees member with the Douglas County Libraries, at Huff's farewell gathering at Pino's Italian Kitchen in Castle Pines last month.

By Lynne Marsala Basche; photo by Terri Wiebold
January 8 saw an end to an era in Castle Pines. After eight years, Jeff Huff reached his term limit, and Tera Radloff was sworn in as mayor of Castle Pines.
At the beginning of his term, Huff noted that he and his team laid a new financial foundation for the City. Early priorities included hiring department heads and "creating an organization where one was not before," which Huff said was the most rewarding aspect of those early years. Huff is proud that each year budgetary goals were met, and financial audits were completed on time especially with only a full-time staff of five when similarly-sized cities function with hundreds of employees.
When asked what he found most challenging during his terms, Huff spoke about the limited sales tax revenue. According to Huff, Castle Pines has the second lowest municipal tax rate in Douglas County, which, when combined with the small number of businesses, presents challenges with upkeep and maintenance – as well as resident expectations. Compounding that struggle, many of the larger commercial property owners reside outside of Colorado and do not have the commitment to Castle Pines that Huff (and residents alike) hope. "The fact that these corporate entities have allowed prime commercial locations to remain vacant is very frustrating," noted Huff.
While concerns about growth topics throughout the Denver metro area, Huff pointed out that between 2011 and 2016, the City of Castle Pines only issued 12 permits for new residential construction and two permits for new commercial buildings. Of course, development has resumed and more is on the horizon, but planning and development negotiations have been ongoing for the past several years with a goal of thoughtful development that fits in well with the existing community.
"Over the years, I have been fortunate to work with many different members of city council," said Huff. "Each of these people had tremendous talent and brought their own unique perspective to city government. I think what I will miss most is the daily opportunity to interact with other council members and staff to help make Castle Pines a better place. It's been an honor to serve the people of Castle Pines."
Huff is looking forward to refocusing his energies on growing his investment advisory practice, Redpoint Capital Management, and he also hopes to spend more time with family and friends.