Girls and Women Sports Luncheon Empowers Young Athletes to be Fearless
February 1, 2018
/
/
Comments Off

on Girls and Women Sports Luncheon Empowers Young Athletes to be Fearless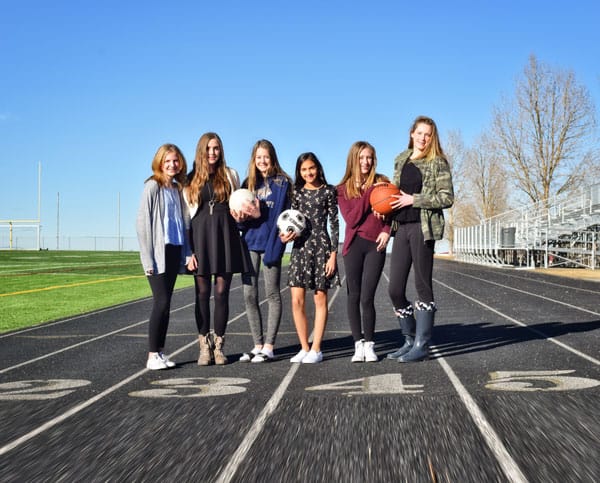 RHMS eighth-graders were honored at the National Girls and Women in Sports Luncheon. From left to right: Sarah Kendall, Kaley Nolte, Naomi Hawkins, Sophia McHenry, Campbell Coddington and Samantha Crispe. Not pictured, Rylee Tinney.

By Kira Zizzo, RHMS intern writer; photo courtesy of Elizabeth Duffie
At Chaparral High School on Friday, January 12, the National Girls and Women in Sports Luncheon took place. This event, which recognized girls and women in sports, was empowering for not only the female high school and middle school athletes, but for their families too. The celebration further inspired a high resolution image of the innovative, advanced future we can have, led by these strong, hard-working girls.
Female students from Douglas County School District (DCSD) were honored as only a handful from each school were chosen to attend this special event. The nominees were the top two percent of female athletes out of DCSD. From Rocky Heights Middle School (RHMS), the nominees, all eighth-graders, were Rylee Tinney, Sarah Kendall, Campbell Coddington, Samantha Crispe, Naomi Hawkins, Kaley Nolte and Sophia McHenry. All of these outstanding girls were nominated due to their positive sportsmanship and hard work in and out of the classroom.
Lunch was provided by the DCSD Nutrition Services Catering department, which the nominees enjoyed with their families at tables, color coordinated to their school. The guests then moved into the auditorium where they heard speeches by Erin Kane, interim DCSD superintendent, Derek Chaney, DCSD director of activities and athletics, Suzanne G Anest, vice president of marketing with Kaiser Permanente, and Taylor Temby, sports reporter at 9News. One of the speeches was by CHSAA commissioner, Rhonda Blanford-Green. She gave a truly inspiring speech, which included her stating, "You are the futures of tomorrow." In the awards ceremony, each of the nominees had positive words spoken of them as the speaker had so much to commemorate. Kaley Nolte commented, "Being in sports has taught me how to be a good team member, stay healthy, make new friends and to be positive."
The National Girls and Women in Sports Luncheon was truly a celebration of phenomenal female athletes. The powerful speeches and recognition of their achievements put a spark in the eyes of our nation's youthful, female athletes of DCSD to be stronger and work even harder as worthy members of society to make a name for themselves. Sarah Kendall explained, "There is so much focus on boys' sports and girls should be recognized, too. By being celebrated for my accomplishments, I have been empowered and I hope other girls have been empowered, too!"
Congratulations to all of the nominees and their impressive athletic achievements!