Freedom of expression – A journey of two worlds
December 1, 2009
/
/
Comments Off

on Freedom of expression – A journey of two worlds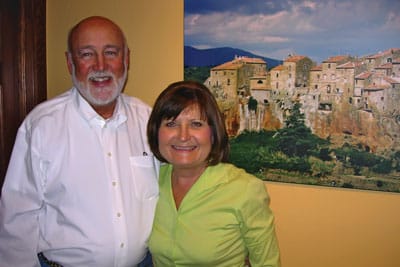 Pat and Emi Kanan in their gallery. Photograph of Pitigliano, Tuscany to the right


Article and photograph by Joe Gschwendtner
Meet Castle Pines Village residents Emi and Pat Kanan, acclaimed photographers who capture the beauty of European landscapes through their lenses. Their talent is displayed in living rooms and boardrooms throughout the country. But this is not the heart of their story; the twists and turns that brought them to the Castle Pines community are more dramatic yet.
Emerencia Marton was born in 1945 under Hungarian Communism, behind the "Iron Curtain". Barely surviving tuberculosis at age three, her spirit was forged by a father who resisted his socialist masters at every turn. Emi married early. Like her father, husband Frank was heady and dreamed of freedom. Soon they had a son. Following a tragic accident, Emi was left a widow at age 23.
Using meager savings of $140 and a communist vacation visa to Yugoslavia, Emi paid a flesh smuggler to get her, son Frank Jr. and her mom across the Adriatic Sea to Italy. Resisting "easy" prostitution money in an Italian refugee camp, she eventually found her way to Chicago and then Denver, bootstrapping herself as laundress, manicurist, administrative assistant, and draftsman.
Pat Kanan had his own challenges.
As a wounded, much-decorated survivor of Recon Company, 25th Infantry Division (the model for Oliver Stone's "Platoon") he returned home from Vietnam. Immediately he struggled with fractured relationships and the recurring horrors of combat terror. Raw courage and an earlier education became a springboard for Pat to find professional success in engineering and plant design.
Destiny brought these two surviving high achievers together in Denver on the Stearns Rogers Engineering payroll in 1977. As feelings for each other grew, Pat parlayed Stearns Rogers training into his own business. Emi moved on to Dain Bosworth and become one of their most successful investment brokers.
They married in 1984. But, sustained daily stress brought on by both careers made them recognize that without a change in lifestyles, they would become the wrong kind of statistic. Emi was already a cancer survivor and Pat required angioplasty.
Then, art imitated life. They decided to start all over again, putting their richly-earned freedom of expression into photography. As their output went from hobby to professional grade, they rediscovered the open, back road beauty of the old world and also that of Colorado. In Emi's words, "it takes a risk-taking attitude to experience something very new, very special…."
Perhaps this is a tale of poetic justice: two people, one from behind the Wall and another who helped tear it down, capturing the simple elegance of nature, one tree, one hill, and one snowflake at a time.
Pat and Emi Kanan can be reached through their website www.doorstotheoldworld.com.