Full swing toward the future
May 1, 2011
/
/
Comments Off

on Full swing toward the future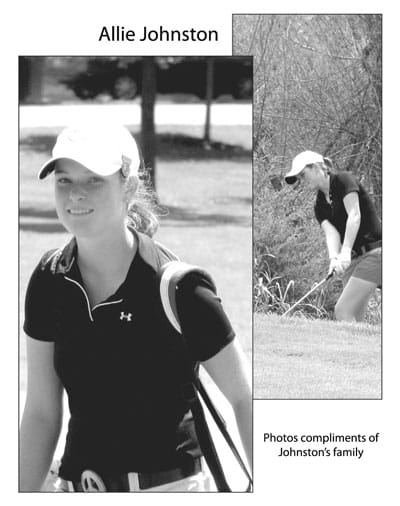 Allie Johnston

by The Rock writer Erin Snyder, reprinted courtesy of Rock Canyon High School
She took second place in the Girl's Golf 4A State Championships last year; she's ranked 52nd out of every single Junior in the country; she's placed first at two qualifying tournaments for the AGJA; she's already been told by 36 colleges that she is being followed. Allie Johnston, a junior at Rock Canyon High School (RCHS) hasn't turned 17 yet.
Johnston started playing in golf tournaments when she was eight years old. She remembers watching other kids win trophies and wanting to win one too. "Really what got me started was the trophies," she laughed, "they were really pretty trophies." She didn't have to wait for long. By 2004, Johnston took first place in the Colorado Junior Golf Association's 10 and under category and again in 2006 in the 11-13 division.
Even when she was nine, Johnston wouldn't stop for anything. She remembered finishing a hole in a tournament with a ball nearly split in half by a lawn mower, unaware she was allowed to replace it. To this day, Johnston has acquired a list of injuries and illnesses which haven't stopped her from playing. She even tried to hide the fact that she had swine flu, in hopes of playing in a scheduled tournament.
Though instances like this have temporarily held her up, she has never withdrawn during a tournament. This same dedication to golf has lead Johnston to take all of her classes online except for Spanish which is her first period. The remaining time is dedicated to practicing and traveling for tournaments.
"I'm at golf tournaments all the time," she said; an understatement next to the list of places she's competed in, including San Diego, Alberta, Florida, Texas, Oklahoma, New Jersey, Indiana, Las Vegas, Arizona, Kansas and Georgia. "Every time it's different," Johnston says, "You get to travel more; meet more people. I like that about golf."
Johnston plans to sign off to a college in November. After that, she wants to go to school and then hopes to go pro. Her life in the foreseeable future is going to revolve around golf. "I really want to go on tour and play," she said. "That's what I want to do for the rest of my life."