Meth : Don't try it, it's not worth it
June 1, 2015
/
/
Comments Off

on Meth : Don't try it, it's not worth it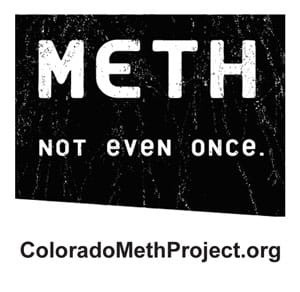 By Patte Smith
Adolescence is a critical time of development for pre-teens and teens. As these young adults struggle with acceptance, confidence, identity, school, friends and physical changes, their decision-making can be overly influenced by emotions. Their ability to cope is not fully developed and teens may become vulnerable to risky behaviors, such as drugs and alcohol.
One drug used by teens, methamphetamine (meth), is a highly-addictive synthetic stimulant that affects the pleasure centers of the brain. It is considered one of the most highly addictive substances known. In many instances, a one-time "try" of meth can lead to habitual use – the reality, a user is hooked.
The Colorado Meth Project, founded in 2009, strives to educate teens about meth and its affects. Geoff Blue, a resident and city councilman for Castle Pines, has been involved with the Colorado Meth Project since its inception. He was elected the Board Chair of the non-profit organization in its inaugural year, and still holds that position.
"Our mission is to reduce meth use among teens through our educational programs, public service messaging, and community outreach. 'Don't try it, it's not worth it' is the message we emphasize over and over," said blue.
The organization's website notes that their efforts have had measurable impact on young people's attitudes toward meth and view meth as very dangerous. "While we have been successful with our efforts in parts of Colorado, meth is still here. We launched our 'Not Even Once' campaign in 2009 with saturation advertising in the traditional media and moved it online in 2012. To create the advertisements, the Meth Project spoke with meth addicts about their lives, meth itself, and the devastating consequences they encountered. It serves as a reality check for teens."
Blue is proud that 86 percent of the funding is used for preventative and educational programs. "If invited into a school district, an individual school, or other organizations that want to be educated about the risks of substance abuse, our community and teen outreach programs are ready to help. Call us about scheduling an educational program at your middle or high school."
Take a moment and visit the Colorado Meth Project online at www.colorado.methproject.org, and also check out the "Not Even Once" video advertisement.
This website also has a link to Rise Above Colorado (www.riseaboveco.org), a counterpart to the Colorado Meth Project, that focuses on empowering teens to a life free from all types of substance abuse. This website is a valuable resource for parents, teens and educators about drugs, educational programs to help stop drug abuse, and the fastest growing critical teen drug problem in Colorado – prescription drug abuse.