Autism brought to light at Canyon Fitness
June 1, 2015
/
/
Comments Off

on Autism brought to light at Canyon Fitness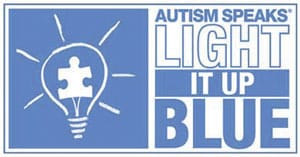 By Amy Shanahan
One in 68 children is affected by autism, and Canyon Fitness was proud to hold its second annual Light It Up Blue event to bring awareness to this statistic.
The event was held at the end of April which is designated Autism Awareness Month, and the club held a fun party for their members with a silent auction, music, and yummy food donated by Gabriel's, Pegasus, and Eating Primal. The highlight of the event was a Light It Up Blue "Groove" dance class where participants shook, danced, and had a blast to party music in a room lit up with black lights.
Canyon Fitness owners Michelle and Kyle Hettinger are dedicated to this cause, as their youngest son Dylan was diagnosed with autism when he was three years old. Through their efforts, the club raised funds which were donated directly to local public schools to provide aid to autistic children.
"It was a great night! We raised a lot of money and I'm so appreciative of this wonderful community that we've built here together," remarked Michelle. "My breath was taken away by the generosity of our community. And what was so moving to me was how many people came up to me and mentioned how they have been affected by autism in some way."