Safeway joins forces with community to fill empty space
June 1, 2015
/
/
Comments Off

on Safeway joins forces with community to fill empty space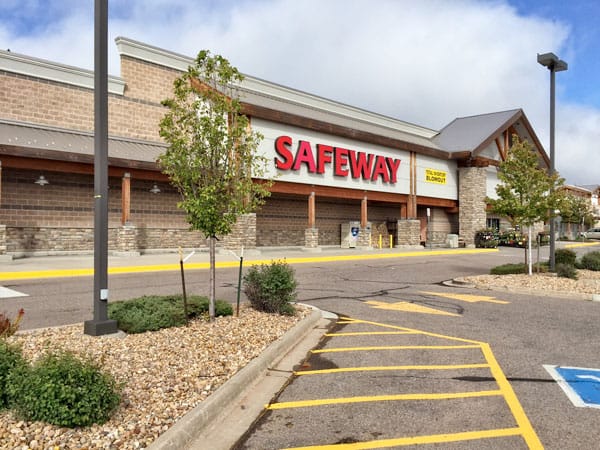 Although residents will miss the added convenience of having a second grocery store in Castle Pines, it is the warm and friendly employees who will be missed the most. These smiling faces from Safeway, FirstBank, and Starbucks have all made shopping a pleasure. The Castle Pines Safeway store will close its doors for good on June 13.

By Lisa Crockett; photos by Joe Gschwendtner
Later this month, the Safeway store on Castle Pines Parkway will close its doors for good.
On June 13, nine metro-area stores, including the Castle Pines location, will no longer be in business due to a lack of profitability. The closure will leave the 59,000 square foot retail space empty, a situation several entities in Castle Pines are working to remedy. In May, representatives from the Castle Pines City Council and Chamber of Commerce met with representatives from Safeway and the property owner, CNA Enterprises, a real estate investment and advisory firm headquartered in Century City, California.
"From my perspective as a city leader, I see this as an opportunity for the city; the loss in sales tax revenue from the closure is minimal, and getting new retailers in the space could help diversify where residents can shop," said Castle Pines Mayor Jeff Huff. "The city has very little say in what will go into the space, but we can help get the word out and share ideas."
Safeway has a long-term lease on the property which lasts until 2026, so Safeway's local real estate representative, BRC Real Estate, is actively soliciting a new tenant or tenants – because the space is large, it is eligible to be subdivided into smaller spaces. While the space sits empty, Safeway has committed to maintain the storefront to keep it from becoming an eyesore. The timeline for re-leasing the space is currently unknown.
"It will likely take some time to fill the space, but right now our focus has been on making every effort to place our employees from stores that are closing," said Kris Staaf, Director of Public Affairs for Albertsons-Safeway. "It's premature to speculate what might go into that space."
The City and the Chamber of Commerce are committed to acting as a support in finding new retail options for residents of the city and surrounding areas.
"The Safeway space offers visibility and easy access from I-25," said Huff. "We'll be seeing a lot of growth in the near future with new development and that spot is really a premier location."
First Bank, which has a branch within the Safeway store will also close on June 13, and will be re-locating all its employees to jobs in other First Bank locations in Douglas County. The First Bank ATM in King Soopers in Castle Pines will remain in operation. The closest branch offices after the closure are in Lone Tree at Lincoln and Yosemite, and in Castle Rock at I-25 and Founders Parkway.

"It's unfortunate that this branch has to close, we have a lot of traffic at that branch because it's in a great location" said Wes King, Market President for First Bank Douglas County. First Bank may consider opening another branch in another Castle Pines location at some point in the future.