Food trucks roll into Elk Ridge Park
June 1, 2015
/
/
Comments Off

on Food trucks roll into Elk Ridge Park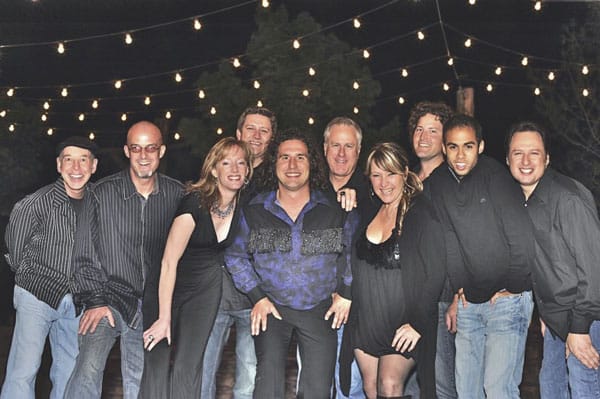 Neil Diamond tribute band Forever in Blue Jeans has a following of loyal listeners and will be performing to a captive Castle Pines audience on June 6. Check out a pre-event preview at www.foreverinbluejeanslive.com.

By Lynne Marsala Basche; photo courtesy of Forever in Blue Jeans
The Castle Pines Chamber of Commerce is excited to host what it hopes will become an annual event, Food Truck Frenzy! The outdoor food festival is June 6 from 5 p.m. until 8 p.m. at Elk Ridge Park, and there will be something to delight everyone's taste buds.
Six vendors will showcase the diversity of the food truck community for this family-friendly event. Come hungry to sample culinary delights ranging from exotic sausages to premium burgers to gourmet cuisine and organic salads. No need to worry if your children's palates tend to be on the less-sophisticated side. There will be plenty of options for them. Be sure to save room for the hand-made frozen dessert food truck. Our four-legged canine residents will have their own mobile dog bakery and treat shop, too.
Entrées range from $8-$10, and side dishes are approximately $3. There will also be gluten-free options, and at least one vendor that caters to just about any special dietary need. Per City regulations, there will be no vendors that sell alcohol at Food Truck Frenzy.
In addition to enjoying the delicious food offerings, listen to Denver's own Forever in Blue Jeans, a Neil Diamond tribute band, while relaxing with friends and neighbors. Kids can enter a coloring contest with a chance to win a gift card to Toys R Us and receive bragging rights for the official 2016 Food Truck Frenzy logo. Attendees can vote for a People's Choice Award for the best food truck cuisine, and the winner will receive what is sure to be a highly-coveted trophy. A special judges panel will preside over the Taste Off contest, and that food truck winner will receive a $200 cash prize.
Food, music and contests all in one place on a summer evening. Bring your blanket, grab your chairs, do not forget your appetite and head over to Elk Ridge Park with your family, friends and neighbors. What a fun way to enjoy Castle Pines! To learn more about Food Truck Frenzy, including vendor descriptions, visit www.castlepinesgov.com/news/food-truck-frenzy.