March 1, 2016
/
/
Comments Off

on Miles of mutton bustin'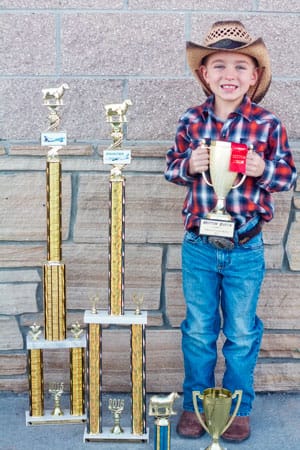 Miles Cullum standing amidst the many trophies he won while mutton busting at rodeos across Colorado.


Article and photo by Amanda Merriman; photos courtesy of the Cullum Family
The rodeo announcer begins the countdown as the rider grips a fistful of wool tightly in each hand and grips the animal with their legs. Finally, it is time to go and the rider rockets into the arena with the crowd cheering to hopefully witness an eight second feat of grit and strength. This is not the tale of a bronco rider, but is instead how seven-year-old Castle Pines resident Miles Cullum completed his mutton busting career in a blaze of glory at this year's National Western Stock Show.
Mutton busting is an event that originated at the National Western Stock Show (NWSS) in Colorado in the 1980s and is now commonplace at many local rodeos across the country. Mutton busters must be between the ages of five and seven and weigh less than 55 pounds to prevent the sheep from getting injured. The children wear protective gear and trained staff members are nearby to help the children after they have fallen off the sheep. Judges rate the performances and give a score.
At the NWSS, every participant receives an impressive trophy that often rivals the height of the mutton buster. The goal of these events is to provide a fun and positive experience to the children who participate.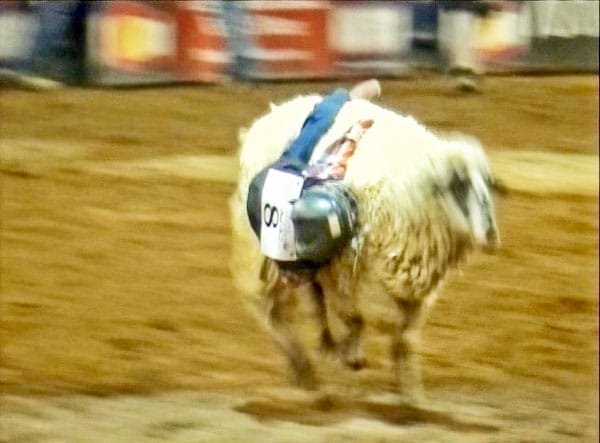 Miles Cullum riding a sheep in his victorious final performance as a mutton buster at the National Western Stock Show.

In 2013, Cullum witnessed mutton busting at the age of four when his parents David and Katie took him to the NWSS for the first time. Cullum was smitten and wanted to participate. He first honed his skills at small rodeos across Colorado and then won a lottery spot to participate in the NWSS the following year. Cullum gained entry to the show the next two years through a wait list. In this year's final performance at the NWSS, Cullum scored a 90 out of 100. Cullum has participated in 10 rodeos during the past three years. When Cullum talked about his experience mutton busting, it was clear he loved every minute of it.
Cullum said, "Everybody should try it!" Cullum has never felt nervous about riding sheep and said, "It's not scary!" He spent a lot of time perfecting his skills by riding on his dad's back. Cullum's advice for anyone daring to give mutton busting a shot: "Hold onto the fur tight and squeeze your legs tight!"
Though his journey as a mutton buster at the NWSS is over, Cullum will possibly compete in smaller rodeos until he is above the age and weight limit. Hang on tight, Cullum!
For more information on mutton busting at the National Western Stock Show, visit nationalwestern.com.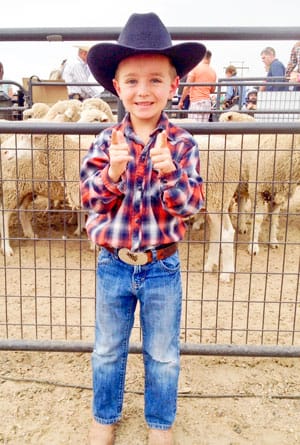 Miles is an enthusiastic proponent of mutton busting. He believes every child should consider giving it a try.