No New Fire Station for CPN – Existing Station 36 Continues to Serve City
December 1, 2008
/
/
Comments Off

on No New Fire Station for CPN – Existing Station 36 Continues to Serve City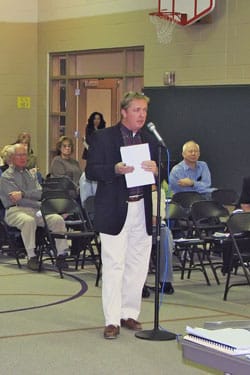 Castle Pines North Councilman David Neely of Ward 3 encourages South Metro Fire Rescue Board of Directors and staff at a CPN community meeting about the proposed relocation of Fire Station 36 to "think out of the box and look at some of the other alternatives."

by Terri Wiebold
The South Metro Fire Rescue (SMFR) Board of Directors tabled further discussions to relocate the existing Castle Pines North (CPN) Fire Station 36 to a new site at Monarch Boulevard and Castle Pines Parkway (CC-20) at its monthly meeting in November. The station will remain at its current location, just west of I-25 on Castle Pines Parkway.
"We've heard the loud voices of opposition from the Castle Pines North community," commented SMFR Director Laura Simon. "The wishes of the community in terms of what they would like to see, or not see, certainly bear on this member," echoed Director Hank Eng.
Despite SMFR staff's recommendation to relocate the existing station to CC-20, Fire Chief Dan Qualman supported the board's decision. Qualman acknowledged that the staff report was based on what could come in the future and what would be the optimum.
"We've done our due diligence; we've measured out the pros and the cons," said Qualman. "We also need to consider the concerns of the city," he continued. "The fact that they [City Council] voted five to one not to relocate the station should weigh heavily in our decision."
Discussions in support of the relocation focused on improved service and response times to the northern and western neighborhoods of CPN.
"It is clear to me that the Bufflao Ridge area does need improved service," said Director David Jackson, "but that has – to a degree – been mitigated."
According to Simon, "Taken purely from a public safety standpoint, this location [CC-20] is the best location for the station. It serves the most people with the most impact." she commented. "Having said that," continued Simon "we have a fiduciary responsibility to exercise restraint in the face of not knowing where our revenue will sit."
In the end, it was the cost analysis and future uncertainty that tipped the scales against relocation. According to SMFR, there are no plans at this time to build a second fire station in the Castle Pines area, as there is not sufficient fire and rescue call volume to justify the construction, equipment and staffing costs.?
SMFR president, Peter Webb, summed it up by saying, "We are not ill served by leaving station 36 where it is."
The SMFR Authority still has $1.6 million in its 2009 budget for a proposed station in Castle Pines, but the Board has directed legal counsel to withdraw its petition for condemnation action to acquire the land at Hidden Point and Monarch Boulevard. Also at the direction of the Board, legal counsel is looking into the opportunity to secure an option on the land at CC-20 for potential future use.
"We want to thank the many citizens who have come forward with their concerns and comments over the past year. It's great to know so many people are interested in the quality of their emergency services," said Qualman.