One Phenomenal Art Teacher
November 1, 2019
/
/
Comments Off

on One Phenomenal Art Teacher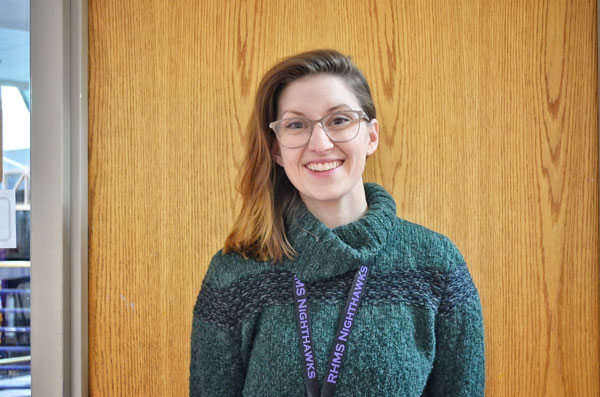 Laura Kirkland, RHMS art teacher

Article by Andrew Kim, RHMS intern writer; photos by Karmel Bedhoodi, RHMS student
American historian Henry Brooks Adams once said, "Teachers affect eternity; no one can tell where their influence stops." Laura Kirkland, formerly known as Ms. Carter, is a teacher with a never-ending influence. She is an astounding art teacher at Rocky Heights Middle School (RHMS). Kirkland received the Colorado Emerging Art Educator of the Year award from the Colorado Art Education Association (CAEA). The honor is given to the fastest rising art teacher in their first five years of teaching.
When asked if Kirkland will continue teaching, she enthusiastically replied, "Yes! I love it! It can be very challenging in ways that I didn't expect going into teaching, but there's so much good going into it, as well and just getting a chance to play a small part in students' lives and having the privilege to get to know so many incredible young people."
Philip Dobranowski, a RHMS eighth grader and Castle Pines resident said he enjoys her class and the way she teaches. "There is a really relaxed environment." He said, "The class isn't about being good at art, it's about putting all you can into what you make. I would definitely take her class again."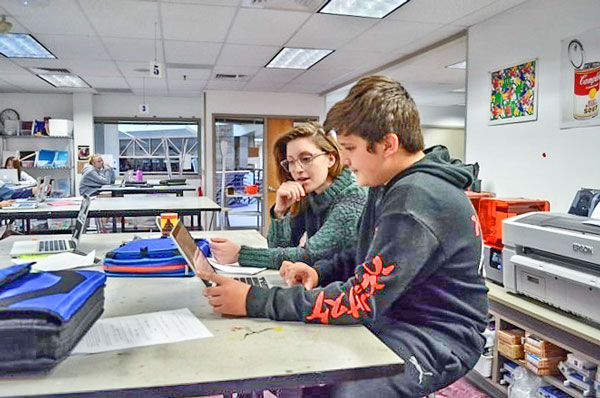 Rocky Heights Middle School art teacher Laura Kirkland (back) takes interest in her student's work.

Kirkland is supportive in all manners of the arts, whether that be physical art or correlating with the recent rise in digital art making. She believes in teaching various art techniques to kids. Speaking about CAEA, Kirkland said, "It's a great organization; it lets art teachers from all over Colorado meet at least once a year to learn from each other. This includes workshops and learning about the curriculum of other teachers. I feel that current methods of art making should be incorporated into art classes so kids can experience current and historical methods."
Kirkland enjoys teaching middle school. "The response I get when I tell people I am a middle school art teacher is pretty funny. I get a lot of variations of 'bless you' or 'it takes a special kind of person to teach middle schoolers.'" With a kind smile and a laugh, she elaborated, "There are a lot of misconceptions about middle schoolers; all I can say is that they are missing out."
When asked if she would like to stay at RHMS, she replied, "I would love to; I can't think about going anywhere else at the moment, but life happens. I think it [RHMS] is a wonderful place to work. I have wonderful coworkers too. I also get the opportunity to collaborate with the drama and music department to help with the backdrops for the school musicals and plays – in addition to sponsoring the art club after school, which gives me additional time to get to know students." Kirkland is a phenomenal teacher who deserves so much. She is sure to earn many more awards in the future.