Pets are good therapy for the heart, mind and body
July 1, 2017
/
/
Comments Off

on Pets are good therapy for the heart, mind and body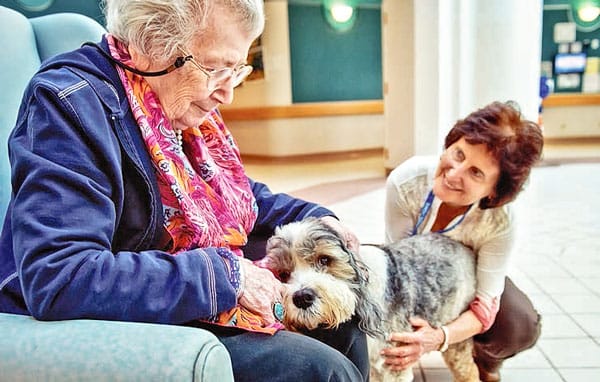 Animals are known to have a positive effect on people of all ages and can be an important part of an older adult's life. Bonding with a pet is known to reduce blood pressure, stress levels, help lower cholesterol, fight depression and help protect against heart conditions.

By Patte Smith; courtesy photos
Millions of Americans love their pets, and there are numerous reasons why owning a pet can be beneficial for many of us as we age. According to Aging in Place National Council for Aging Care, as little as 15 minutes bonding with an animal sets off a chemical chain reaction in the brain, lowering levels of the fight-or-flight hormone cortisol and increasing production of the feel-good hormone serotonin. The result is that the heart rate, blood pressure and stress levels immediately drop. Over the long term, pet and human interactions can lower cholesterol levels, fight depression and may even help protect against heart disease and stroke.
It is a joy to experience a pet's unconditional love and to love them back. Strong bonds form between people and their pets and nurturing an animal can bring owners psychological and physical relaxation. Having a sense of purpose keeps a person positive and pets require care, feeding and exercise. Exercise! Yes, exercise is very important as we age, and walking the dog is good for both of you.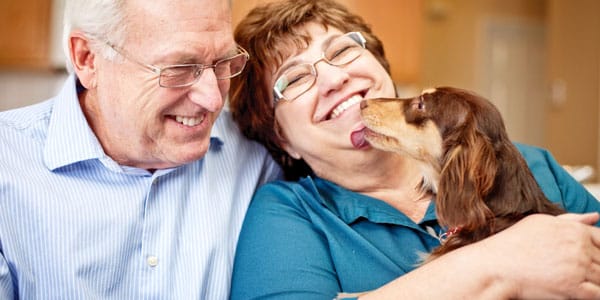 A couple bonding with their dog increases serotonin, the 'happy feeling' hormone.

If you are thinking about adopting or buying a pet, most organizations encourage prospective pet owners to make a "pro" and "con" list. Ask yourself, is your mobility good enough to not fall when picking up a dog that is running circles around you? Is it hard for you to bend down to their level to clean up after a cat or dog? Can you handle the day-to-day care? You know your capabilities, so make sure you have the energy and stability to take on that responsibility. Remember, you need to take care of yourself first and foremost.
While pets can do wonders for an elderly adult, owning a pet is certainly not for everyone. Ask your veterinarian, family members and doctor if this is the right decision for you and your health. If you are healthy enough or your caregiver is willing to help care for a pet, the rewards of pet ownership can be life-changing. An aging dog, cat, or even bird could be the best medicine and your best friend, all in one.
You need to have a plan in case you cannot take care of them or get to the point where walking the dog is difficult. For these reasons, choosing a designated family member or in-home health aide that is willing to check on the pet and help take care of it would be ideal.
Several assisted living facilities in the Douglas County area allow residents to have pets and offer pet therapy visits, too. Pet therapy improves social interaction and brain stimulation. Pet therapy can also help with Alzheimer's sundown syndrome in the evening, which causes confusion and disorientation for individuals with the disease. It has been documented that animals can keep Alzheimer's patients connected and occupied with their non-verbal communication and acceptance. Be sure to ask about pet ownership or pet therapy when getting a tour of these facilities.