Punt, pass, kick goes local
January 1, 2015
/
/
Comments Off

on Punt, pass, kick goes local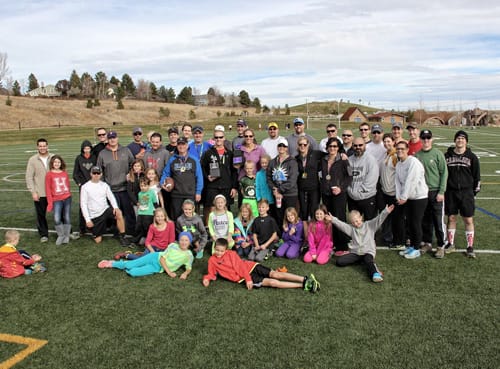 A group of competitive and fun loving Castle Pines residents gathered at Elk Ridge Park on Thanksgiving morning for the Second annual Turkey Day Adult Punt, Pass & Kick Competition.
Submitted by Jeff Stotler; photo courtesy of Mary Clothier
On Thanksgiving morning, a group of Castle Pines residents, led by Winter Berry resident Jeff Stotler, held the Second Annual Turkey Day Adult Punt, Pass & Kick Competition (PP&K). The event grew out of a bunch of out-of-shape parents with egos seeing their children compete in the NFL PP&K competition and bragging to each other how great they would do at that.
So with the gauntlet thrown down, this new annual tradition emerged. On this beautiful, sunny Thanksgiving morning, 24 men and 7 women arrived at Elk Ridge Park to give it their best shot. Each person had one chance at each event and starting from the South goal line, they punted, passed, or kicked the football as far as they could.
With kids marking where the ball landed and the official measurers, Dick Stotler and Ken West, subtracting how far off to the side the ball landed, their distances for each event were added together to get a total distance and prizes were awarded.
When the dust had settled many competitors were muttering "I'll do better next year!" The "thanks for trying, last place" awards went to Bill McLees for the men and Nancy Tepic for the women. Unfortunately for Nancy, her punt went further to the side than it went forward, resulting in a net zero for the punt.
For the men, we had a repeat winner with Doug Graham (137 yards), second went to Stu Watterson (135 yards) and third place went to Jim Carlson (128 yards). For the women, we had a new winner with Kimi Campbell (67 yards), while last year's winner Debbie Murphy was out of town and unable to defend her title. Second place went to Jennifer Maurer (51 yards) and third place went to Amy Vanderschouw
(49 yards).
Fun was had by all, along with some soreness! Next year, we plan on selecting a charity and collecting good will donations to give a little more than thanks. Stay tuned and start practicing for next year everyone!