Respected property manager and breast cancer survivor Peg Ellefson is thriving
September 1, 2016
/
/
Comments Off

on Respected property manager and breast cancer survivor Peg Ellefson is thriving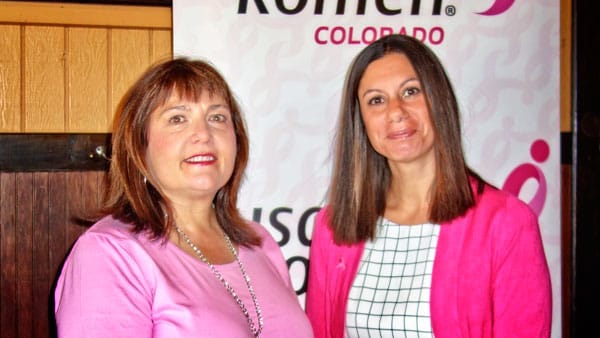 Peg Ellefson (left) was congratulated by Susan G. Komen Colorado CEO Keri Kallaway (right) at the annual Stars in Pink luncheon. The luncheon, hosted by the Denver ChopHouse & Brewery, honored the top 100 individual fundraisers for the Komen Colorado Race for the Cure. Ellefson and the other Stars in Pink raised a combined total of $332,600 for last year's Race for the Cure held at Pepsi Center in downtown Denver.

By Nancy Koontz; photos courtesy of Peg Ellefson and Cindy Cranstone
Local 80108 resident Peg Ellefson found a lump in her breast when she was 35 that fortunately was benign. Relieved and happy, she moved on with her career in property and project management, overseeing buildings from one story to 30 stories working with law firms, insurance companies, medical device training, call centers, financial institutions, insurance companies, the government, technology companies, marketing firms, mortgage companies, fitness facilities, medical offices, and nonprofits. Peg is well-known in her industry as a reliable, conscientious and "good at problem solving" resource.
In June of 2014, Peg was diagnosed with breast cancer that a mammogram did not detect at first, but an MRI did. Peg's mom also had breast cancer, so she made a promise to herself that she would do whatever she humanly could to "make sure that the cancer was going to get out and stay out!" Peg shared, "Your perspective on life changes after you have cancer; many things just aren't that big a deal anymore. And – don't say you can't do anything else about your cancer; the most important thing is continuing to be your own advocate."
Even though it is not always suggested by doctors and insurance companies, earlier screening for younger women should also be recommended for anyone at risk, because too many women under the age of 40 are being diagnosed with breast cancer these days. Peg stressed, "Politicians and insurance companies need to notice that young women are dying from aggressive breast cancers and leaving young children behind. The key is still in early detection, and the insurance companies would benefit in the long-run if they paid for more life-saving testing procedures such as MRIs (which they used to consider as experimental) – especially for women with a history of breast cancer in their families. Screening is so important – even for men who also can get breast cancer."
Ellefson is on the Komen Colorado Policy Committee supporting different bills that relate to breast cancer and other cancers. She is working closely with experienced women's advocate Toni Panetta on the Komen Policy Committee. Toni is on the board of Women's Lobby of Colorado and is very effective in implementing important programs and policies for women's health.

Ellefson is also a Community Connector for Living Beyond Breast Cancer, a 25-year organization that serves the community with breast cancer information and support by telling the stories of breast cancer patients and survivors. Last year, Ellefson attended their major breast cancer conference in Denver, and this September 23, she will attend the conference in Philadelphia. Ellefson said she gained so much from attending last year's conference, which featured numerous experts in the field. She was excited to report they are making great strides in the research and treatment of breast cancer.

Ellefson has learned to change her lifestyle habits and now eats only organic foods, uses relaxation techniques and exercises regularly. She noticed pretty quickly that all these changes made a positive difference in her life.
My conversation with Peg Ellefson came full circle with this reflection: "I got a pass surviving my cancer, I knew I had to make changes, so I decided to give back in every way I could!"
Editor's note: The annual Komen Denver Race for the Cure will take place on Sunday, September 25. For more information, visit www.komencolorado.org/events or call 303-744-2088.