RHMS yearbook "Limitless" has the Midas touch
May 1, 2018
/
/
Comments Off

on RHMS yearbook "Limitless" has the Midas touch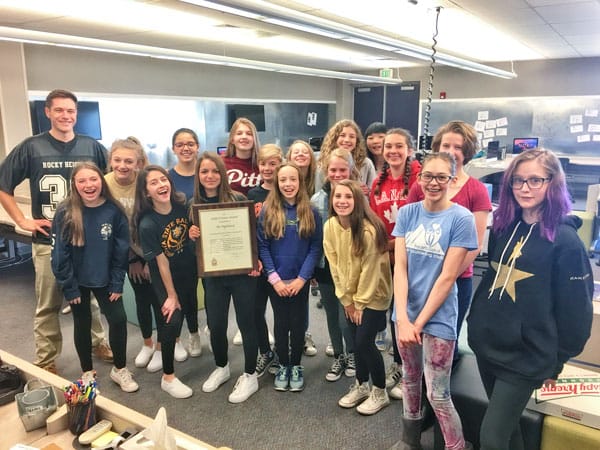 Yearbook class period two (from left to right): Julien Bouquet (yearbook adviser), Kelsey Brown, Sydnee Nach, Kennedy Vasquez, Nicole Flocco, Selina Patel, Raegan Synk, Danielle Petteys, Natalie Bruce, Taylor Jeppson, Savanna Avery, Megan Williams, Bethany Detwiler, Jessica Wang, Avery Gibson, Cate Venable, Kylie Szilagyi and Maia Vernetti.


By Kira Zizzo, RHMS intern writer; photos courtesy of Rob Rathbun
Crisp glossy pages, great photographs to capture the moment seamlessly, quirky headlines, and dutiful articles to commemorate events of the past year all contribute to a unique sense of nostalgia only generated by one thing, yearbooks. Yearbooks have become integrated into student lives as something to look forward to at the end of the school year, serving as a portable collection of memories that have an impression on students for years to come.
The Rocky Heights Middle School (RHMS) digital media (yearbook) class specializes in creating nostalgic, informative, organized, and impeccably-designed yearbooks. Last year's yearbook was titled "Limitless" and included various elements in its design to adhere to this theme. These details included a sunset as the cover, horizontal lines, circles, and mini-globe seasonal pages. The design, content, theme, and overall aura of "Limitless" helped this exceptional RHMS yearbook become royalty for the first time, as it was crowned gold by the Columbia Scholastic Press Association.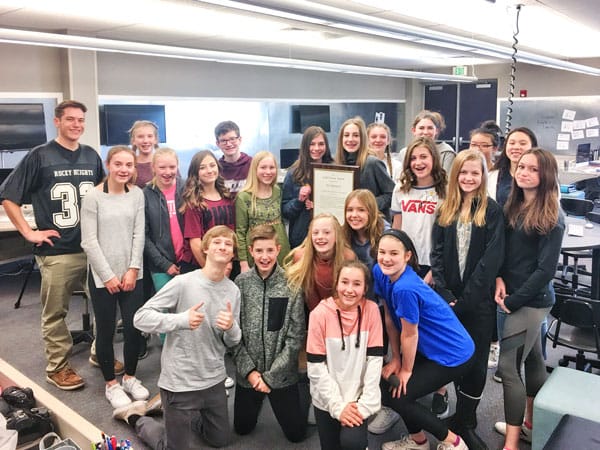 Yearbook class period three: Julien Bouquet (yearbook adviser), Sophie LeGrande, Paige Howeiler, Rachel Cook, Kaderia Barella, Jon Bernath, Matthew Fink, Lindsay Smart, Thearin Pyeatte, Madison Friar, Camille Leach, Devon Kessler, Hailey Taylor, Elizabeth Duffie, Josie Manning, Anna Porter, Keira Schnell, Mary Kate Mead, Alivia Ball, Rachel Kim, Jayna Meyers and Casie Watson.

The content in this yearbook was the cream of the crop. Not only did it follow the theme, but it also featured numerous award-winning photos taken by RHMS students. About the effort involved, Bethany Detwiler, a student who worked on last year's yearbook said, "A lot of hard work, coming in early, and staying late all went into creating last year's yearbook. We spent a lot of effort and time making sure that our book was as mistake-free as possible." The work ethic of the yearbook students helped polish the yearbook to perfection, priming it for that gold crown of excellence.
Congratulations to the yearbook students who worked on last year's award-winning yearbook! This proved that hard work really does pay off. Photo editor, Lindsay Smart was already thinking ahead as she said, "For the future of our book, we want to keep working and growing so we can continue winning these kinds of awards. It's extra motivation for us. This is the first gold crown Rocky Heights has ever won. I feel proud to be part of it." Based on the progress, accomplishments and humility of the RHMS yearbook team, there is an abundance of award-winning yearbooks to look forward to that will serve as an illustration of our past and an inspiration for us to propel forward and mold an improved future.