RCHS Destination Imagination team
May 1, 2018
/
/
Comments Off

on RCHS Destination Imagination team
RCHS Destination Imagination team wins state and readies for global finals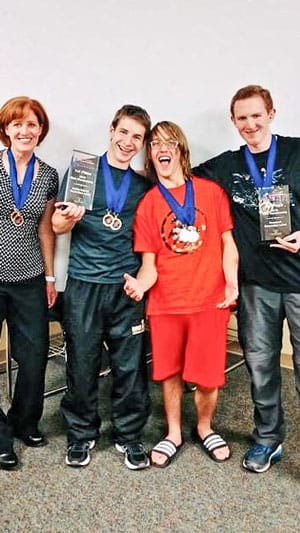 From left to right, Christina Kohl, Rock Canyon High School Destination Imagination Team Manager, Emre Diker, Gavin Geyer, both juniors, and Adam Kohl, a senior.  The team earned first place at the Colorado Destination Imagination state tournament and will be competing at the Global Finals.
By Lisa Nicklanovich; courtesy photo
The Rock Canyon High School (RCHS) Destination Imagination (DI) team earned first place at the Colorado Destination Imagination state tournament on April 7. The team competed in two challenges, and won them both. The team now has the opportunity to represent the state of Colorado at Global Finals which are being held May 22 to 26 in Knoxville, Tennessee.
DI is a project-based learning program which offers seven challenges in the fields of STEM (science, technology, engineering and mathematics), fine arts, service learning and early learning. Students learn the creative process and how to take a novel idea and see it through to fruition, gaining skills in creative and critical thinking, collaboration, project management, perseverance, risk taking, budgeting and conflict management. All of these skills came into play when the night before the state tournament, as the RCHS DI team ran through their final practice, the projector they had borrowed broke.
Borrowing another projector and having to adjust all their materials to a different interface, the RCHS DI team faced their first improv challenge that involved explorers. The team had researched different cultures and famous explorers but did not know which explorers would be chosen from the initial list they had been given until two minutes before their skit began. The DI team created and presented an improvisational skit about a quest to return a lost cultural treasure to its owner. Twists included having to incorporate an unusual place and a setback.
The second challenge was a service learning project that involved identifying a need in our community. The team conducted a toiletries donation drive, collected more than 1,100 items and created toiletry kits for homeless youth through Shiloh house. The team also had to create a storage device that transformed as the story of the project unfolded. At the tournament, they gave a presentation about the project and how it impacted the community.
The team began working on their service project last September and practiced twice a week for their challenges since January. Unlike a team challenge where teams have months to prepare, plan and create their solution, DI participants also faced secondary instant challenges in which the students had to solve a challenge in a matter of minutes.
Adam Kohl, an RCHS senior and Castle Pines resident said, "We got our highest scores ever in seven years of competing. Both wins were incredibly rewarding, but especially improv since we have been doing it so long. I can't imagine a better way to finish at my final DI state tournament."
At Global Finals, the RCHS DI team will join teams from 45 states and 14 countries to showcase their innovative challenge solutions. The team will need to quickly raise $6,000 for registration and travel expenses and welcomes the opportunity to partner with local businesses in their fundraising efforts. On May 14, dine at Chick-fil-A (3700 E Highlands Ranch Parkway) between 5 p.m. and 8 p.m. and on May 15, dine at Chipotle Lone Tree between 4 p.m. and 8 p.m. and 50 percent of the sale will be donated to the team when you mention them. For more information, contact Christina Kohl at ckohl10@gmail.com.