Jud Mitchell recognized for his selfless service
May 1, 2018
/
/
Comments Off

on Jud Mitchell recognized for his selfless service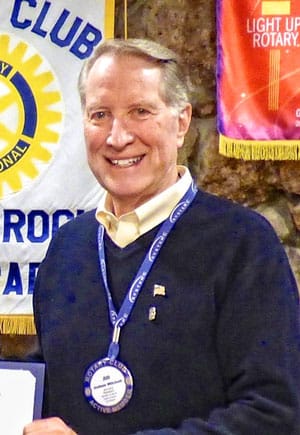 Jud Mitchell received the "Light 'n Heart" award for leadership and outstanding humanitarian work from the Rotary Club of Castle Rock.
By Liz Rector; photo provided by Jud Mitchell
Castle Pines resident Jud Mitchell was recognized on April 11 for his outstanding humanitarian work through the Douglas County Rotary Club. Mitchell received a "Light 'n Heart" award for leadership within the Rotary Club of Castle Rock, as well as his work as vice chairman of the board of directors for Wellspring Community (Wellspring) and his work as chairman of the Wellspring finance committee.
"It obviously makes me proud to be recognized for helping others in our community," said Mitchell. "But more than that, it makes me happy to put the spotlight on what great work Rotarians do for communities all over the world."
Mitchell has been a Rotary Club member for a total of 14 years (6 years in California and 8 years in Colorado). In the past, Mitchell served as the president of the Rotary Club, co-chairman of the annual Ducky Derby, publicity chairman for the Ducky Derby, member of the Club Foundation, Club Rotarian of the Year, and has previously received an Excellence in Service award.
"A neighbor and good friend first invited me to a Rotary meeting. I experienced and enjoyed the fellowship at that first meeting so much that I returned for a second meeting," said Mitchell. "Working together in fellowship with like-minded individuals while helping those in need has been a great enjoyment of being a Rotarian. I have also made many good friends."
One thing that has set Mitchell apart is his dedication to Wellspring. Founded in Castle Rock in 2008 by Mary Lou and Bob Fenton, the community was created out of a desire to give their daughter with developmental disabilities a full life. Wellspring "empowers the lives of adults with special needs." Many of these individuals with Down syndrome, autism and other disabilities need support, supervision, or medical care.
Mitchell has assisted Wellspring by writing Rotary grants and leading a project to repair and paint office walls and supply new cubicles. Mitchell has also put his 42 years of experience in financial management to work in helping Wellspring, which has rapidly grown to serve 72 people from five surrounding counties. Mitchell was also invited to join the Wellspring board of directors in 2016, and he continues to use his skills and connections to help those who need it.
"The Rotary motto is 'Service Above Self,' and even though our blessings multiply, it's all about those we serve, not about us," Mitchell added.