RHMS yearbook students participate in Journalism Day
December 1, 2017
/
/
Comments Off

on RHMS yearbook students participate in Journalism Day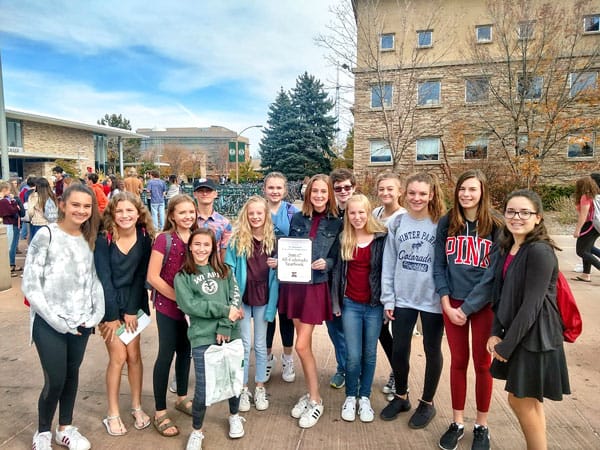 Rocky Heights Middle School yearbook staff participated in Journalism Day at Colorado State University in October.


Submitted by Kira Zizzo, RHMS student; photo courtesy of Julien Bouquet
On October 19, young journalists from the Rocky Heights Middle School (RHMS) yearbook class attended Journalism Day at Colorado State University in Fort Collins. The field trip gave students the opportunity to explore the many facets of journalism, paving the way for their futures, as well as RHMS's future, on the path to journalistic prosperity.
The main focus of Journalism Day was to help students learn how to enhance and refine their faction of journalism to its full potential. On display were past yearbooks from varying sources for viewing, and students could attend a variety of ceremonies, classes and lectures. Some of these sessions explored how students could individualize yearbooks as a school by making the yearbook more prominent. Students also learned new organizational tips and skills to use while producing a yearbook, including layout, captions, stories, pictures and underlying themes. Throughout the day, journalists voiced ideas and demonstrated their knowledge of different forms of media pertaining to journalism, such as yearbooks, films, newspapers and more.
Castle Pines residents Josie Manning and Madison Friar, along with Elizabeth Duffie, Bethany Detwiler, Matthew Fink, Lindsay Smart and Cate Venable attended the event from the RHMS yearbook staff. When asked about her time at Journalism Day, RHMS Nighthawk update editor Josie Manning said, "I loved how we got to experience this as a class, and we got to enjoy each other's company while also learning new things about how to make our yearbook the best it could be." Madison Friar added, "Journalism Day helped me as a yearbook student because I got to experience different points of views on topics and how serious journalism is. It gave me a different perspective about journalism, and how much people really care about it." The lessons learned at Journalism Day will definitely influence this year's yearbook.
At the awards ceremony, last year's RHMS yearbook earned the All-Colorado Award, which is given to the best yearbooks in the state. Congratulations to the contributors of last year's yearbook! Not only did yearbook students learn various components of journalism, but Journalism Day also ignited their inspiration to improve this year's yearbook. The event was a positive, constructive day for these aspiring journalists as they learned to use their creative voices and make them stronger.