July 1, 2019
/
/
Comments Off

on Rhythm of the night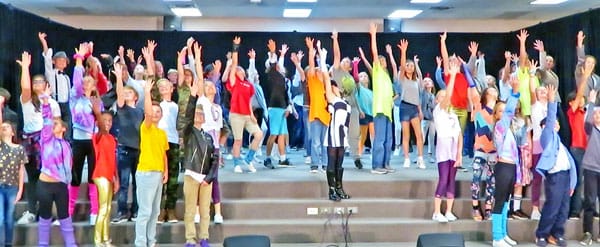 By Julie Matuszewski; photos courtesy of Timber Trail Elementary
This year, 84 fifth grade Timber Trail Elementary (TTE) students took the stage under bright lights to carry out another yearly tradition. The fifth grade dance project is a grade level project based learning (PBL) collaborative project facilitated by music and art. Not only has this dance been a school tradition for the past seven years, but it has become a way to incorporate TTE PBL philosophy into class specials. This project included culture, history, evolution of music, social trends and fashion, and it exposed students to new music and artists they were not familiar with. It taught students to communicate through purposeful movement using creativity and critical thinking.
The fifth graders began thinking of their dance choices and moves as early as their fourth grade year. This year's themes included dances featured in Disney productions (like "The Descendants," "Teen Beach Movie," "Zombies," "Cinderella," "Pinocchio," etc.), line dances, fad dances and dances featured the year they were born. The students were given full voice and choice of theme. Through anonymous electronic vote, popular boy and girl bands was the chosen theme.

Dressed and ready for the stage, these fifth grade boy band dancers were as big a hit off the stage as they were on the stage.
Dressed in music era street clothes these dance machines moved in sync to mimic 24 of their favorite boy and girl bands dating from 1964 to 2019. Familiar groups such as Backstreet Boys, 'NSYNC, Boyz II Men, Spice Girls, One Direction and New Kids On The Block got all Timberwolves on their feet, while The Temptations, The Beatles and The Supremes had older generations rockin' in their seats.
Preparing for this dance was a lot of work for these TTE fifth graders. Dance lessons and choreography began as early as September, with synchronized music following in January. Rehearsal techniques were used to teach dance transitions, polish skills and counts and teach group dance to close the show. Lunch recess was surrendered for featured dancers. This time was spent working closely with art teacher Wendy Wilson and music teacher Cynthia Berndt through group and individual show ideas. Olivia Dunn practiced all through her lunch recess and at home so she would be prepared for her solo dance to "Salute" by Little Mix. Olivia said smiling throughout her routine helped her relax and have fun.
Performing in front of others can be a scary thing to do for the first time. In the beginning, there were a handful of students with stage fright, but as they became familiar with the dance routines of their choice, rehearsal became fun and many wanted to be in the front row.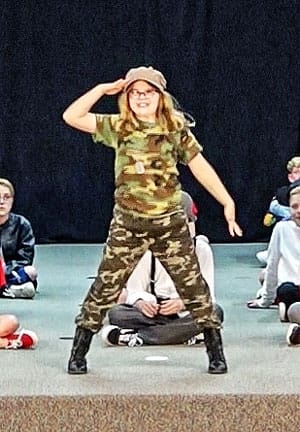 A smiling Olivia Dunn paused to proudly salute her TTE peers during her solo dance to "Salute" by Little Mix.
Dillon Wilson said it was fun to watch himself and his peers improve over the months of work. Samantha Sovich thought it was scary at first to perform, but the more she practiced, the easier the moves became and it wasn't as scary. She is a true believer that practice makes perfect.
Perfect they were. Even though the dance took all year to plan, constant editing, flexibility and creativity, Cynthia Berndt shared that the kids had such a great time with the project and they truly trusted her and Wendy to guide them every step of the way. All of the TTE staff and families are so very proud of their hard work and performance.