Rock mountain connects a community
July 1, 2019
/
/
Comments Off

on Rock mountain connects a community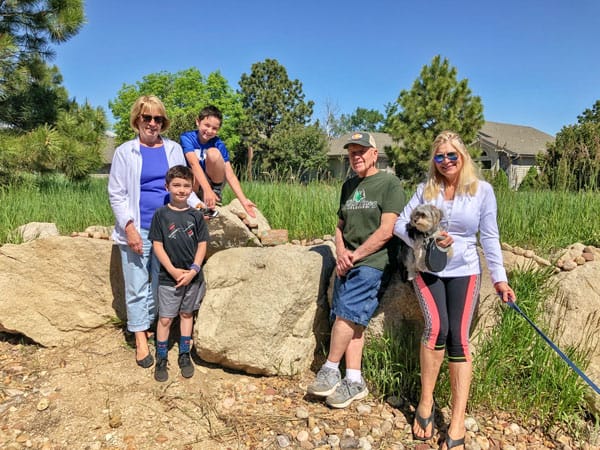 The Hamlet and Glen Oaks neighbors Judy Foraker with her grandsons Parker (in back) and Palmer (in front), Vern Cain and Melissa Champine. Cain started the line of rocks, some painted, and over the last year, neighbors, visiting family and anyone who feels connected to the community has added their own rocks.
Article and photos by Lisa Nicklanovich
A few years ago, Vern Cain of Hamlet placed a few painted rocks along a rock wall on a path between the Hamlet and Glen Oaks neighborhoods. In true community spirit, neighbors caught on to the idea, placing painted and plain rocks one after another, starting at one end and going a few hundred feet with each and every rock touching.
While the sheer length of the connecting rocks is impressive and the feats of gravity of rocks balanced between the gaps quite amazing, it is really the details and surprises that make this special. Melissa Champine of Glen Oaks exclaimed, "I walk this path five days a week and so love looking at all the different painted rocks that change with the seasons. There are rocks painted for college games, birthday rocks, BFF rocks and on and on! It's such a wonderful scene in our neighborhood!"
Hamlet resident Judy Foraker said, "Rock mountain always makes me smile. You're always looking for new and different rocks. It has turned into an art walk that everyone really enjoys." Nobody knows who has painted or placed which rock, which seems to delight all the neighbors. There are painted rocks that only appear during a particular season or holiday so it is always changing.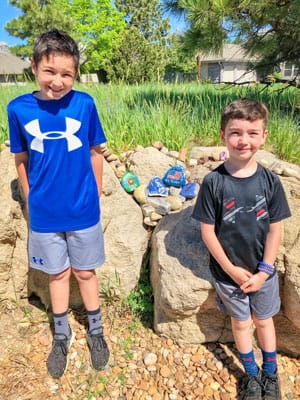 Foraker's grandsons Parker (10) and Palmer (7) (pictured above) have been climbing on the rocks there for years.
Upon seeing Cain's painted rocks, they were inspired to start painting rocks as well and add to what they named rock mountain. Parker and Palmer showed me the rock that started it all; a rock painted like a snake.
Cain was in construction management in Seattle years ago and when work was slow, he came to work here in Douglas County with plans to move back to Seattle. Cain chuckled as he said, "that was nearly 50 years ago." He has lived in Castle Pines for 21 years and is "everything" to the community, according to Champine. Foraker added that "everybody knows Vern and he's always thinking and planning something."
Cain said, "I like how our community is involved. I saw a rock had fallen off and then I saw a lady put it back. A neighbor had a block party where kids painted rocks. I encourage people to do their own thing and put more rocks up here. We need more rocks that are painted." Cain pointed out that rocks are never replaced but just put between rocks already there. "Between every rock is another crevice. There's always room for one more," Cain said.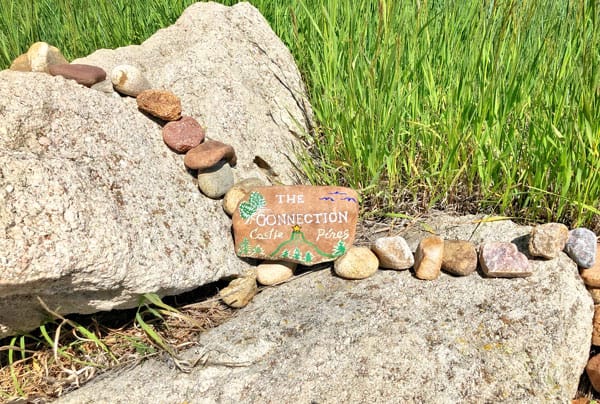 Vern Cain hand painted this "The Connection Castle Pines" rock as part of rock mountain.