Life changing moments – at home and abroad
July 1, 2019
/
/
Comments Off

on Life changing moments – at home and abroad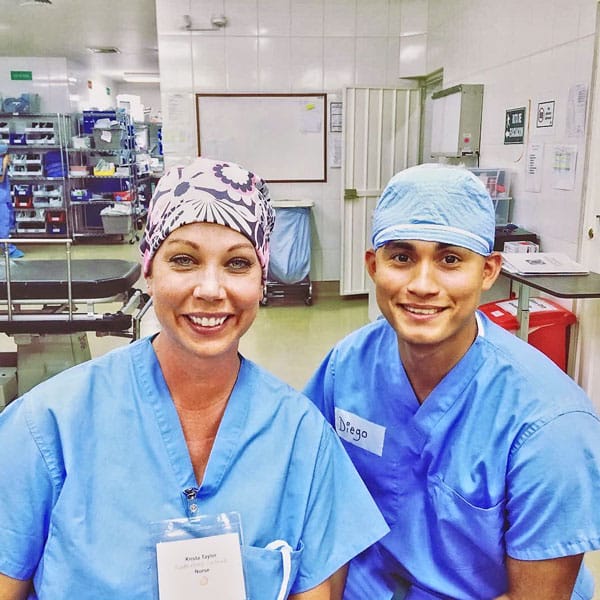 Krista Taylor on a medical mission in Honduras with her translator, Diego, who she said, "giggled all day long at my 'Spanglish' and our little pet bird who tapped on the surgery center window and sang to us all day!"
By Lisa Nicklanovich; photo courtesy of Krista Taylor
Krista Taylor hit a big milestone this year – 20 years as a nurse. "As I hit this milestone, I couldn't help but ask myself what haven't I done? Is it time to do something different?" Taylor asked. A bit out of her comfort zone, Taylor spent a week on a medical mission in Honduras as part of a brigade with One World Surgery.
Taylor is Director of Nursing at Park Meadows Cosmetic Surgery, where she divides her time between assisting with surgeries as a circulator, doing administrative work and working on the clinic side. She applied for and received a scholarship from Medline, a global manufacturer and distributor of medical products and the Ambulatory Surgery Center Association to join One World Surgery at their surgery center on a children's ranch called Nuestros Pequeños Hermanos, in Honduras.
The brigade performed 80 surgeries in five days. "Many of these patients had been waiting for years to have these surgeries that we would probably schedule within a week or so. These were 100% life-changing surgeries that these patients were having," Taylor said. The brigade performed eye surgeries for cataracts, gynecological surgeries and orthopedic surgeries.
Taylor said, "One patient was sobbing in recovery with gratitude. His wife is having a baby soon and he was having a hard time working because of his knee."
The trip was life-changing for Taylor too. "I learned so much about Honduras and their healthcare system. People will sleep outside the hospital to get in line to get in, and they are sometimes turned away and not even seen. Many people are terrified to go to their public hospital," Taylor said.
Taylor smiled as she said, "Walking into the surgery center every morning there would be a room full of people waiting to be seen. Some would stand up and hug you, and they were all so friendly, saying hello and genuinely thankful you were there."
Taylor, a Castle Pines resident for 13 years, said she would love to take her husband, James, and children Zach and Zoe on her next medical mission. She said there is always something for volunteers to do, from cooking to organizing medical supplies. In Honduras, volunteers built a much-needed sidewalk at the children's ranch for the children who are in wheelchairs. Taylor added, "Anyone can do this, and it will change your life."
For more information, visit www.oneworldsurgery.org.