Rock Canyon High School drama flies into Peter Pan
April 1, 2017
/
/
Comments Off

on Rock Canyon High School drama flies into Peter Pan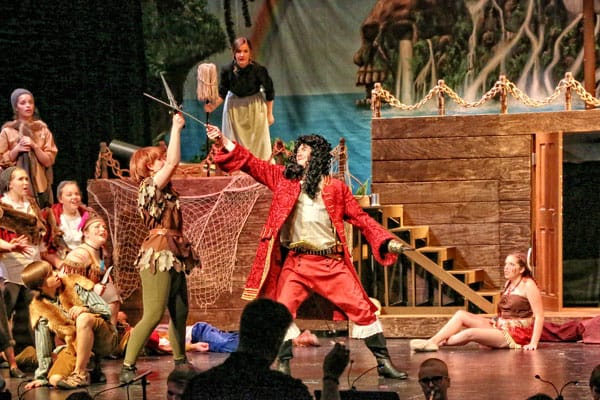 Actors in the RCHS production of "Peter Pan: The Musical," rehearsed one of the final scenes in the show in preparation for opening night on March 1. Actors featured (from left to right): Alyssa Marino, Leah Doogan, Ben Watervoort, Molly Lane, Maddie Maynor, Lily Schmoker, Amanda Scholtz, Landon Hogue and Elysa Veta.
By Riley Busch, RCHS intern writer; photos courtesy of Alan Treibitz
In early March, the Rock Canyon High School (RCHS) performing arts department opened its stellar 2017 production of Broadway's "Peter Pan: The Musical." Following many hours of long, consecutive days of rehearsal, the cast, crew and musical pit succeeded in producing several seemingly effortless performances for the eager eyes of the Castle Pines community. The hard work of all members yielded great reward and praise, with the majority of five separate shows selling out within the first one-to-two weeks of ticket sales.

An impressive exuberance of energy in the show, akin to that of a childlike imagination, was brought about through brilliant choreography, wonderful music and a spellbinding story. Many older audience members enjoyed the nostalgia of seeing the beloved cast of characters from the original films on stage; Peter and his lost boys, Captain Hook, and the menacing crocodile made their appearances, awing the audience with wit and charm.
Many younger audience members were drawn to the theatre as well; following each performance, the cast took extra time to do a meet-and-greet with their youngest fans, further inspiring the next generation of performers. Audience members were surprised to find themselves interacting with a variety of indians, lost boys, and pirates throughout the evening as many scenes required audience participation.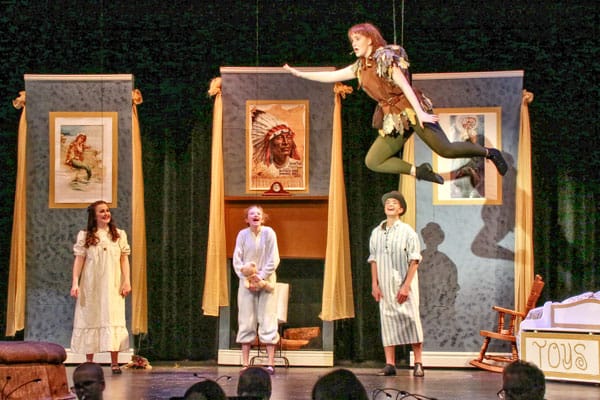 RCHS student Lily Schmoker (Peter Pan) took flight during one of the final rehearsals prior to opening night on March 1 of "Peter Pan: The Musical." With her (from left to right) were Megan Pryor, Mila Smith, and Lukas Makikali (the Darling children).
Behind the scenes, bringing the world of Neverland to life presented an entirely new set of challenges, the largest of which was the addition of a flying system for the main cast. Directors and students dedicated numerous extra hours to assembling and coordinating the operation of the intricate system and took immense pleasure in learning the art of flying. Stage assistant and Castle Pines resident Sophie Klokinis said, "I fly Peter, Wendy and Liza, and it's so cool to be able to learn how to work it; the whole experience has been just so much fun."
The annual musical has become one of the largest shows on the RCHS campus, bringing together many different students to enjoy a lively and entertaining performance. Senior cast member Noah Charvat said, "I love singing and hanging out with my friends, and the two just meld perfectly into the musical." Utilizing the show's youthful charm, the cast and crew were able to effectively re-kindle a long lost wonder and inspire a new generation. Congratulations on another successful show, Jaguars!