June 1, 2019
/
/
Comments Off

on Rockmedia Rocked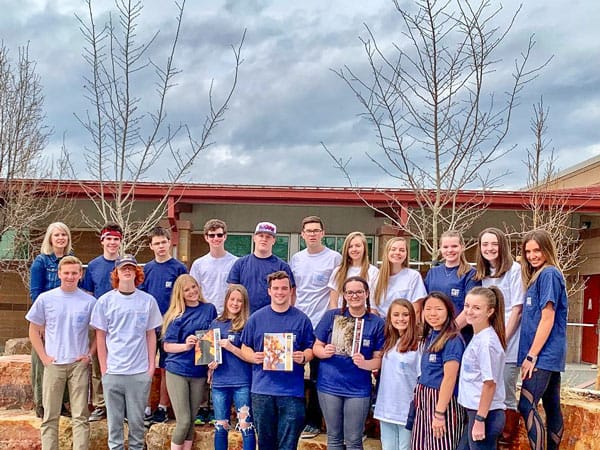 The Rock newspaper staff of Rock Canyon High School. The staff earned many awards from the Colorado Student Media Association, including two first place awards to The Connection writing interns, Amanda Brauchler and Alec Sutula.

Article and photos by Maddy Merritt, RCHS intern writer
Journalism can be a profession, a hobby or something a group of teenagers with many common goals do in school together every day. At Rock Canyon High School (RCHS), the media program includes The Rock newspaper and the Black and Gold yearbook.
Articles, reviews, spreads and photos from The Rock newspaper and the Black and Gold yearbook were entered into the Colorado Student Media Association Best of Colorado Individual Awards. The publications won first, second, and third place awards, as well as ten honorable mentions.

The Rock Canyon High School yearbook staff, which works all year to bring the Black and Gold yearbook to students.

Castle Pines resident and junior Brooke Andel won an honorable mention for her critical review article on Five Guys milkshakes. The 2019 spring semester was Andel's first on the newspaper staff. "I joined the media staff because I wanted to be aware of what was happening all around me beyond my small bubble. I was so happy to find out I got an award my first semester on the staff. This semester was a semester of learning all about what it takes to be a part of Rockmedia and everything that goes into creating good content that people care about and that represents everyone at the school," Andel said. Andel has published numerous stories and photos on Rockmedia's website, www.rockmediaonline.org.
Castle Pines resident and senior Alex Leitner won the second place award for Sports Action Individual Photo and Caption, third place for Theme Package Writing, and an honorable mention for Sports Reaction Individual Photo and Caption.
Leitner found her love for sports photography shooting RCHS varsity volleyball games. "I started loving sports photography and taking more and more photos and they kept getting better. Three years later, I find myself hurrying to sign up for every big sporting event for the school," Leitner said. "Volleyball has been my passion for as long as I can remember but I never expected it to introduce me to another passion." Leitner would like to thank yearbook and newspaper advisor Kristi Rathbun for the support she gave Leitner and for always believing in her.
The Rockmedia program continues to grow as more and more students take journalism classes. Members of the media work every day to share the stories of students around them, to photograph sports and club events and to write meaningful articles about topics to which the student population can relate.
Editor's note: Congratulations to our intern writers Amanda Brauchler, Maddy Merritt, and Alec Sutula for their awards!