Rocky Heights students feel the music
October 1, 2011
/
/
Comments Off

on Rocky Heights students feel the music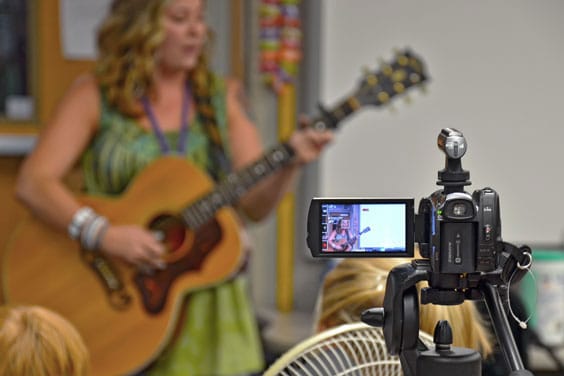 Angie Stevens performed several of her songs, including those that the kids used to produce their own music videos.


By Amy Shanahan with photos courtesy of Scott Melanson
The Nighthawk Television (NHTV) students from Rocky Heights Middle School were given a unique opportunity to film a music video for a local musician. Angie Stevens is a Denver musician whose music melds folk, country and indie-rock. Her music has been featured on television shows, and she has toured with numerous well-known musicians.
Each team of four students from NHTV chose one of Stevens' songs and was tasked with producing a music video that they then pitched to Stevens. The students spent several weeks learning lyrics and starred and lip-synced in their own videos. They filmed on locations throughout the Denver area, including Red Rocks, and finally, edited and produced a video. "What an amazing opportunity to take the students' video editing skills to a new authentic level," remarked NHTV teacher Scott Melanson. "We are extremely grateful to Angie for taking the time to work with our students."
The completed videos were submitted to Stevens and she came to the school to discuss them with the class. She had wonderful input and delved into what she enjoyed about each video. The kids were fortunate enough to hear her perform and Stevens also spoke to them about what moves her to create her music. Stevens chose her three favorite videos and will be posting them on her website at angiestevens.com, for viewers to vote for their favorite.
The film students who produced the winning video will have the opportunity to work with Stevens on her next music video. Stevens remarked, "I am really excited to work with the winning kids on the video! I was completely impressed and grateful for their work thus far. Their interpretations of the songs were incredible!"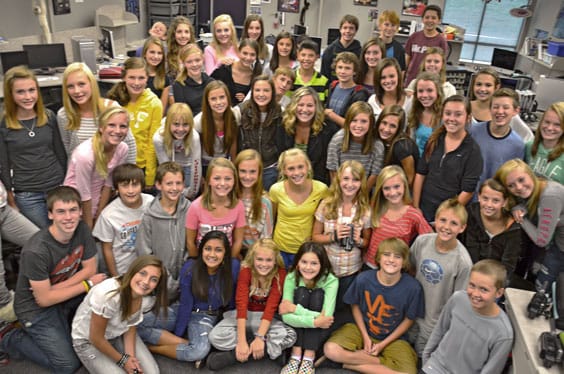 The students of Nighthawk Television gather around Angie Stevens following her performance in their classroom. "We hoped that making this music video would bring a real world application to their work," said Melanson.