RHMS rocks out for a good cause
October 1, 2011
/
/
Comments Off

on RHMS rocks out for a good cause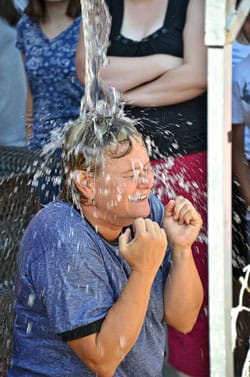 Assistant Principal Kelly Kirkpatrick gets soaked in a game of "Flush 'Em" during the magazine sales. Top sellers for that day had the chance to take their best shot at teachers and staff.

by Amy Shanahan with photo by Scott Melanson
Rocky Heights Middle School (RHMS) recently held its annual magazine sale fundraiser and was thrilled to achieve great success. The rock and roll based theme for the sale was "Turn It Up!", and the staff dressed the part and rocked out for the kids at the kick-off.
The fundraiser was held the first two weeks in September, and thanks to the support of a fantastic parent and student community, the school grossed almost $92,000. Fifty percent of that will be given to the school and will be managed by the Parent Community Alliance (PCA). The money will be used to support the school in areas of technology, learning resources, math, science, sports, the arts, special education, and much more.
Principal Patricia Dierberger remarked, "Our annual magazine sale was a huge success. Not only did we raise a large amount of money, the staff and students enjoyed seeing the teachers act a little like middle level students! We so appreciate the support from our community and we will be very prudent with the funds!"