Seeking adventure – join a gang
February 1, 2017
/
/
Comments Off

on Seeking adventure – join a gang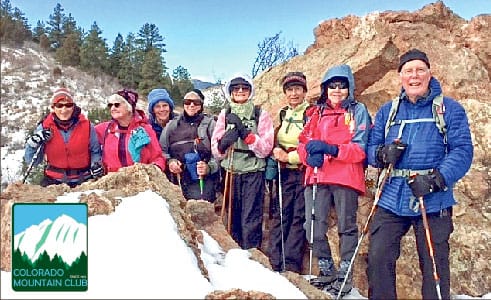 The RMOTHG hiking at the Lair o' the Bear Park in Idledale in January enjoying friends and braving the cold in Colorado at its wintry best.

By Patte Smith; courtesy photo
Yep, a gang of compadres can give you courage, promise you thrills and prepare you for situations you never thought you would be a part of – you need to go for it. You are over 50, and you are feeling maybe a twinge of empty-nest syndrome, or longing for a new adventure, restless and want to feel exhilarated by doing something different and daring.
The Rocky Mountain "Over the Hill Gang" (RMOTHG) is a section of the Denver chapter of the Colorado Mountain Club (CMC). Organized for folks that are 50 and older, the gang encourages people who want to enjoy getting out in the glorious Colorado landscape to join them.
While the group is based out of the Denver/Golden area, members are from all over the entire Front Range area. Regular biking, cross-country skiing, hiking and snowshoe excursions (rated easy to challenging) are offered by the group and are located in the Denver foothills to the high country. Most of the excursions are held on weekdays and followed by a stop for refreshments.
"Our emphasis is for adults 50 and older to take in the remarkable scenery, enjoy each other's company and do something fun in the Colorado outdoors," explained Elaine Shirley a representative of the RMOTHG. "We have a great time, and we also offer an annual camp out at Turquoise Lake, a summer picnic and an annual holiday party."
"When I became semi-retired, my son off to college, and not being keen on going solo into the mountains, I decided to join the RMOTHG," stated Shirley. "Nine years and a multitude of adventures later, I can say it was one of the best decisions I have ever made. Not only has this group provided me with numerous opportunities to enjoy the beautiful Colorado outdoors, but also the pleasure of getting to share in fun adventures with many interesting and like-minded individuals – some who have become very close friends."
RMOTHG bike rides in the metro area are held anywhere from Boulder to Parker and are scheduled on Fridays, weather permitting. Entertaining social activities are offered once a month that include happy hours, Dazzle Jazz brunch, theater performances and other events.
While the RMOTHG group is for adults 50 and older, the CMC is open to all ages and encourages kids, families and adults to join. There are many opportunities for people to be a part of the outdoors through activities, classes, adventure travel and conservation.
CMC membership is $70 for an individual and an additional $15 for the RMOTHG 50 and older group. Family membership is $115 plus $15 for each 50 and older individual.
To learn more about the CMC and the RMOTHG, visit www.cmc.org.