Romance on the home front: Valentine's Day dinners for two
February 1, 2017
/
/
Comments Off

on Romance on the home front: Valentine's Day dinners for two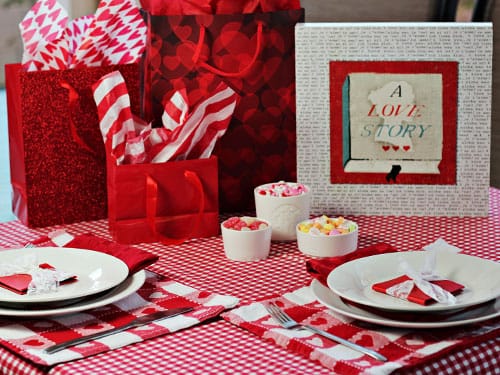 By Lisa Crockett
Valentine's Day is a great day to show your sweetheart how much you care, and sometimes the best way to show your love is by making a fabulous meal. Even a novice cook can create something fantastic to eat using a few tried-and-true tricks (and sometimes a little sleight of hand). So, tell Cupid to draw his bow and get ready for a fancy night in.
Set the mood
Candles create warm, soft light and make everything feel cozy. In this case, it's tough to overdo it. Make a sophisticated and inexpensive candle display by using a rectangular tray and several same-sized candles in white or cream. For this use, it's generally better to avoid scented candles.
Make an iTunes playlist for the big night. Romantic tunes can be found in every genre, but some classic favorites include: "Endless Love" by Diana Ross and Lionel Ritchie, "When a Man Loves a Woman" by Percy Sledge, "The First Time Ever I Saw Your Face" by Roberta Flack, "Crazy for You" by Madonna, "Come Away With Me" by Nora Jones, "Love Me Tender" by Elvis Presley, and "I Don't Want to Miss a Thing" by Aerosmith.
Set the table with a white cloth and pick up a few red roses and a simple vase at King Soopers for a classic look.

Fancy feasting
Does your Valentine have a favorite food? If so, make that a major part of the meal. Dress up casual favorites like pizza or fried chicken with elegant side dishes like potatoes au gratin or fresh spinach salad.
A sink full of dishes and a kitchen in disarray is decidedly unromantic, so opt for foods that can be cooked or baked with minimal cleanup. Roasted chicken thighs and root veggies can be done in a single pan. Quick sautéed green beans and mess-free baked potatoes can accompany seasoned steak seared in a cast iron skillet then finished with a pat of butter. Lasagna makes a mess, but if you make it a day ahead, the kitchen will be clean as a whistle for a happy heart day.
Cheers!
Make a simple syrup of a cup of water, a cup of sugar and a cup of pomegranate seeds, boiled for three minutes to completely dissolve the sugar. Let the mixture cool and then let it sit in the fridge overnight. Pour the mixture through a strainer to remove seeds. Add the syrup, in any amount, to the bubbly beverage (alcoholic or not) of your choice.
Make any drink fit for the occasion by adding strawberry or cherry garnish. Even cranberries, if you have any languishing in the fridge after the holidays, will add a festive shot of color, stacked on a skewer to stir your drink.
Just desserts
Dessert on this day should be rich and decadent. Pick up a box of chocolates (or order one from your favorite chocolatier online) then taste several to decide which is your favorite.
Ice cream and rich toppings are easy and can be tailored to fit just about any taste.
Whip up a quick chocolate mousse: beat two cups of cream until stiff peaks form and place in the refrigerator. Melt 12 ounces of semi-sweet chocolate chips in the microwave (cook on regular power for 30 seconds, and then stir thoroughly, repeating until chips are completely melted). Allow chocolate to cool slightly, then fold gently into whipped cream and refrigerate for at least an hour. Serve in fancy glasses, garnished with berries, crushed cookies or chocolate sprinkles.