December 1, 2018
/
/
Comments Off

on Seussical the musical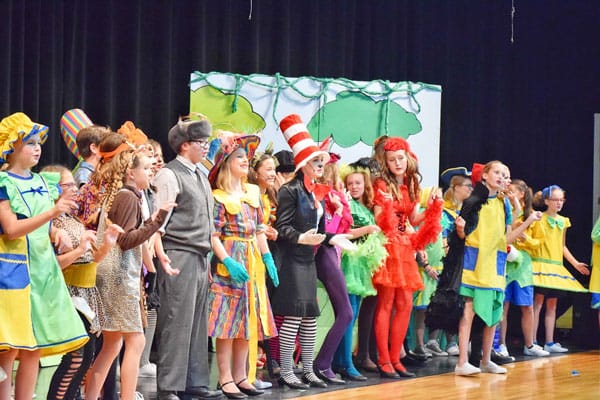 Cast members of "Seussical" the musical at Rocky Heights Middle School took a bittersweet final curtain call on October 25.
By Ava Dunn, RHMS student; photo courtesy of Thearin Pyeatte, RHMS student
Crowded together, the company held their breath. This was an important day. They shuffled behind the curtain, keeping their voices hushed as they waited for their cue. They shared an emotional moment before they jumped on stage, enthusiastic smiles covering their faces. Opening night of the Rocky Heights Middle School (RHMS) production of "Seussical," a Dr. Seuss themed musical, took place October 25 and drew almost 300 people. This engrossing production told the tale of Horton the Elephant embarking on a journey to save Whoville, a tiny town mounted on a speck of dust.
Collectively, 74 people helped with the musical: 47 cast members and 27 crew members. Laura Carter, an art teacher at RHMS, aided the crew in creating backdrops and props for the production. Deanna Kraft, the choir teacher at RHMS, instructed the cast. The work on choreography and songs was Kraft's component of the show.
Kraft had specific reasons for choosing this musical. Because "Seussical" was mainly music and therefore had limited dialogue, she reasoned it was perfect for her group of students. According to her, the students have very powerful voices and she was convinced they could take on the challenge. "This show also teaches some really great messages that we felt were very appropriate for middle schoolers," Kraft said, and those who watched the production could not help but agree. Audience member Ameta Macaluso said, "I enjoyed the music and thought that the actors were very enthusiastic, and there was a lot of talent shown on stage. I also thought that the costumes were very well done." The ensembles were provided by Disguises, a costume store in Lakewood.
The RHMS production of Seussical was impressive to say the least, and it thrilled all who saw it. The actors themselves were saddened when it was over, but proud of the end product and relieved to return to a normal schedule afterward. Lasting memories were made, and the participants were shown how lucky they were to have such an amazing theater program.