Timber Trail Halloween family bingo
December 1, 2018
/
/
Comments Off

on Timber Trail Halloween family bingo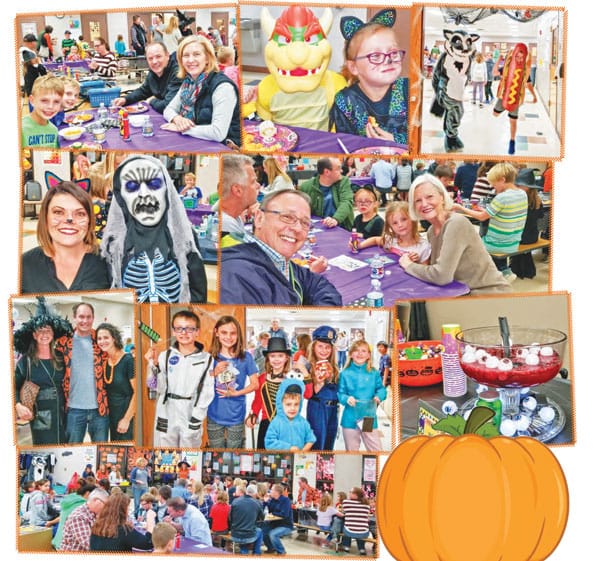 Information and photos provided by Julie Matuszewski
The spirit of Halloween brought ghosts, ghouls and little goblins flocking to Timber Trail Elementary (TTE) for Halloween Family Bingo night; an event organizers hope will become an annual happening. This scary-fun event was held Thursday, October 25 for TTE families and students, and featured a planned potluck dinner followed by numerous rounds of bingo.
Superheroes, villains, ghosts and witches entered through the dark, creepy doors and found themselves amid a Halloween party overflowing with witch's brew, critter crunch and monster mix. Bingo highlighted the evening, followed by "sweet" giveaways, including candy and gift cards to Smart Cow Yogurt Bar. Guests tested their IQs in rounds of Halloween trivia and learned that chocolate is the dominant Halloween candy and 25% of parents have admitted to sneaking a piece or two from their kids' bags of treats.
Grammy Anne Palurmo has enjoyed a few TTE family events with grandkids Ben and Saige Palurmo, but this one she said was "Awesome! The food was fantastic. What a magical night!" Principal Michele Radke agreed. "I love the energy we have with our community. This event has brought not only our students but families together. I'm looking forward to more family events in the future," said Radke.
Between rounds of bingo and Crock-Pot cuisine, the kids enjoyed guessing how many monsters were in the monster candy mix. The total was 105 and winner Tessa Susavilla guessed exactly 105 monsters of gumball eyeballs, Halloween gummy pumpkins and worms. Congratulations to all winners!