Social worker and furry friend help reduce anxiety
September 1, 2015
/
/
Comments Off

on Social worker and furry friend help reduce anxiety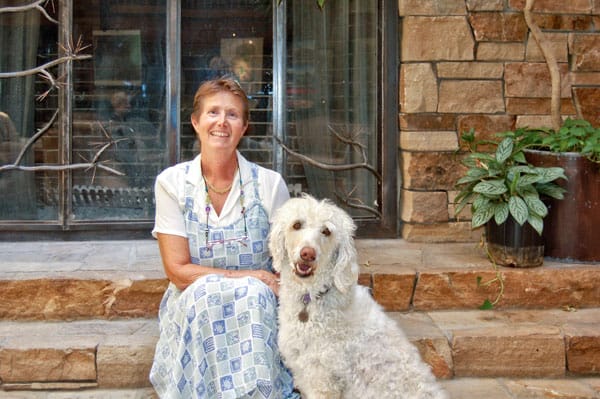 Social worker Julia Gregson loves having her practice in the Coldwell Banker building on Happy Canyon Road in the heart of Castle Pines. Her dog Claire is ever present by her side and is happy to greet visitors and clients alike.

By Rachel Zetwick, intern writer; photo by Amy Shanahan
When walking into Julia Gregson's office in the Coldwell Banker building on Happy Canyon Road, patients should expect to be greeted by a furry part-poodle, part-golden retriever named Claire. The licensed clinical social worker has been in practice for 30 years but moved her office to Castle Pines from the Denver Tech Center a year and a half ago.
"I have dealt with almost everything. It seems to me that the issues I'm seeing most now are relationship issues and probably depression," Gregson said as Claire sat on the couch in her office overlooking the trails of Castle Pines Village.
Gregson cited that she likes to have an animal in the room during sessions, as various studies have shown that having pets in a room lowers blood pressure. "I've included Claire in my practice because she helps reduce anxiety," Gregson stated.
Gregson lives in Sedalia and was happy to move her practice closer to home. She originally had a spot in Village Square, but when the office in the Coldwell Banker building opened up, she fell in love. "I love the view out of my office," she said with a grin.
Although Gregson has helped clients with all types of problems including addictions, mood disorders and eating disorders, she helps with relationship problems most often. "I think for most of us, we've had little or no training in our relationship skills. I think I can teach people to have better relationships both romantic and practical," said Gregson.
An additional area of expertise for Gregson is brain injury recovery. Gregson herself suffered a brain injury and is aware of the challenges that patients face. Gregson highlighted that most people who suffer from a brain injury are unlikely to return to their profession, so she likes to help people recover. "I get to set a good example for other folks who've struggled," she said.
Gregson has worked with all ages, but mainly focuses her work on people from adolescence to adulthood. She has worked with every type of problem imaginable and loves that she is able to help people in Castle Pines. "Most days I can't believe I get paid to do what I do. I just feel like I've always been meant to do this," Gregson remarked.
For more information about Gregson and the services she provides, visit www.juliagregson.com.