Overnight Texas beef tenderloin
September 1, 2015
/
/
Comments Off

on Overnight Texas beef tenderloin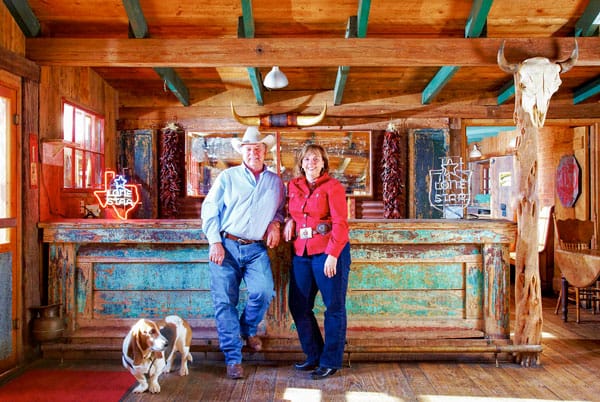 By Amy Shanahan; photo courtesy of Lisa Perini
A big part of what makes Lulu's Barkin' BBQ such an amazing event (see related story front page) is the delicious food that is served each year. Thanks to the wonderful folks from Perini Ranch Steakhouse out of Buffalo Gap, Texas, no one goes home hungry.
Tom and Lisa Perini (pictured above) are the proud owners of Texas-based Perini Ranch Steakhouse, and they drive to Colorado each year with a large crew to serve their delicious food to the guests. Tom Perini grew up in Abilene, Texas with Jana Bartlit who is the outstanding hostess and brainchild behind Lulu's Barkin' BBQ.
The Perinis say they look forward to making the trek every year. "The cause is what makes Lulu's so special," remarked Tom. "Lisa and I are huge animal lovers and it is a thrill to see so many people helping the animals."
Perini Ranch is known throughout the United States for its mesquite smoked peppered beef tenderloin that is served at the BBQ each year. The tenderloin is cooked to perfection and melts in your mouth. The meat has been written and raved about in numerous publications, including Gourmet magazine, People magazine and The New York Times.
Perini Ranch began selling its beef tenderloin via mail order in 1995 and we encourage our readers to give it a try. The tenderloin is cooked to a perfect medium rare, flash frozen, and shipped overnight. It literally just needs to be thawed and served, and the result is pure deliciousness! To learn more about Perini Ranch or to order the beef tenderloin, visit www.PeriniRanch.com.