Soft and snowy Pavlova makes an impressive celebration
December 1, 2017
/
/
Comments Off

on Soft and snowy Pavlova makes an impressive celebration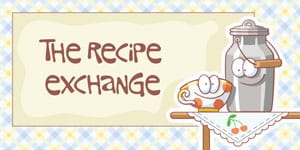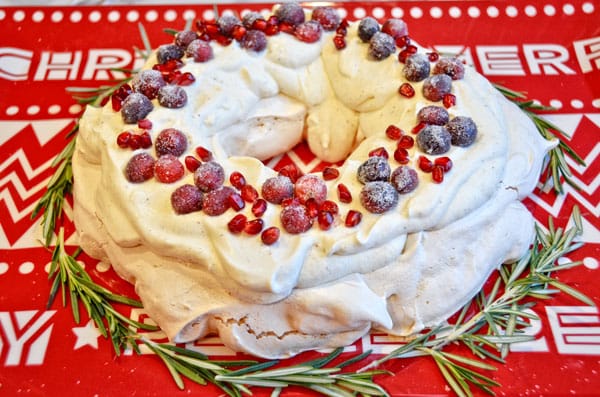 Article and photo by Lisa Crockett
I've never known exactly what a sugarplum is, but if I were to invent one, it would look something like this month's dessert. This simple and sweet meringue Christmas wreath, topped in snowy drifts of whipped cream and sugar-frosted cranberries is practically torn from the pages of a Dickens tale. It's a festive and fancy way to end a holiday celebration, and it looks beautiful enough to serve as the centerpiece to a holiday feast.
The dessert, a Pavlova, is an Australian creation named after Russian ballet dancer Anna Pavlova. A base of egg whites and sugar, beaten to glossy perfection, baked slowly in a warm oven, crisping and drying to create a blank canvas for whatever goodies you might want to place on top. Traditionally, the Pavlova is topped with whipped cream and berries. Alas, finding ripe and appealing strawberries this time of year can be a challenge. If you can find them, by all means use them. If, like me, you find that strawberries are as scarce as parking spaces at the mall, frosted cranberries are a festive and yummy alternative.
While nothing about this dessert is difficult to do, it is a little bit time consuming, so you'll want to plan ahead and follow the directions carefully. If you're making the dessert for company and you've never made an egg-white-based creation before, you might want to do a trial run in order to get a feel for how the dish comes together. Once you get the hang of making these, though, you'll be hooked. The egg whites are fun to work with. I like to make my Pavlovas free form, using the back of a big spoon to make swirls and whirls. Other bakers like to use a piping bag to make more uniform structures with neat lines and designs. Both methods look great, so choose whichever route suits your personal preference.
While this dessert is light and airy, it is very, very sweet. Sugar is a key component in the chemistry that forms the structure of the base of the dessert, so think about how a sweet treat will balance with the rest of the flavors of the buffet or meal you're serving. Use a light hand when sweetening your whipped cream, and don't be afraid to be generous with the cranberries; their tart flavor helps balance the sweetness of the rest of the dish.
A Pavlova is a fragile thing. Once it is topped and ready to serve, it should be eaten within a few hours. Leftovers are still quite tasty, but they're also quite soggy, so it's best to eat the whole thing while it's fresh and pretty. Like the season itself, a Pavlova is a fleeting, marvelous treat.