Tasty holiday goodies and gifts
December 1, 2017
/
/
Comments Off

on Tasty holiday goodies and gifts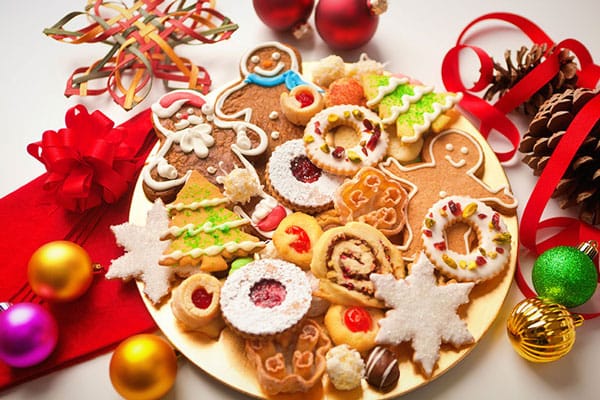 By Lisa Crockett
Friends, neighbors and co-workers. We've all got 'em, and this time of year is the season when we all wonder what to give them. Here are some tasty ideas – many of which can be assembled with little or no time in the kitchen– to say "Happy Holidays" to the people on your list who deserve a little something:
Comfy with cookies: Fill a pair of cozy slippers with treats – in one slipper put scented soap and lotion, and in the other, put holiday cookies (wrapped in a cellophane bag) for a luxurious bath time treat. Tie the slippers together with a festive bow.
Hot stuff: In a gift bag or with a holiday ribbon, assemble a holiday oven mitt, a holiday-shaped cookie cutter and two or three shakers of holiday cookie sprinkles.
Deck the halls: Remove the metal top of a clear, ball-shaped Christmas tree ornament (available at craft and discount stores) and fill with the contents of one envelope of prepared hot chocolate mix, one tablespoon of holiday-colored sprinkles and two or three tablespoons of tiny marshmallows. Replace the metal top, tie with curling ribbon, and attach a tag with instructions for making the hot chocolate by emptying the contents into a mug with six ounces of boiling water.

Brownie in a mug: Purchase a plain white ceramic mug (+++dollar and discount stores often carry them), and write the following in permanent marker on the exterior of the mug: "Brownie in a mug … 4 Tbsp. flour; 4 Tbsp. sugar; 2 Tbsp. cocoa; 2 Tbsp. oil; 2 Tbsp. water; ½ tsp. vanilla. Stir all ingredients until well combined, then microwave for one minute. Eat warm." Assemble the dry ingredients in a cellophane bag and place in the mug, affixed with a bow.
Movie night: Purchase and print a gift certificate for a Redbox movie rental. (Visit www.redbox.com and click on "eGifts.") Attach the certificate to a bag of caramel or cheddar popcorn (bonus points if it's homemade!).
Cocoa kit: Purchase bead storage tubes (can be found on Amazon or craft stores), and fill one each with the following: purchased hot cocoa mix, crushed candy canes, mini-marshmallows, bite-sized cookies or short bread. Tie tubes together with a bow, and attach directions for mixing cocoa with hot water.
Totally tubular: Wrap a "tube" of chips (like Pringles) with festive holiday wrap, and tie with a bow. Perfect for the junk food junkie in your life.

Soda-licious: Purchase small bottles of Torani syrup (can be purchased at Cost Plus Imports). Wrap in a cellophane bag and tie to the neck of a 16 ounce bottle of club soda for a DIY Italian soda. Affix with a tag that says "I'm soda-lighted we're friends."
Pret-tea tree: Purchase a 12-inch paper-maché cone (can be found at craft stores). Hot glue tea bags to the cone, working from the base up, layering as you go to make the cone look like a Christmas tree (bonus points for using green tea bags). Top with a holiday bow.
So sweet: To one cup of white sugar, add one of the following: the seeds of one freshly-sliced vanilla bean, OR two tablespoons espresso powder, OR ¼ cup cocoa powder. Put the flavored sugary mixture in a pretty, airtight container and tie with a bow. Can be used in beverages or as a dessert topping.