Students learn tolerance first hand from Holocaust survivor
April 1, 2016
/
/
Comments Off

on Students learn tolerance first hand from Holocaust survivor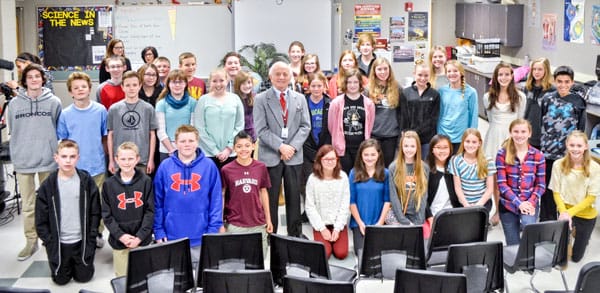 Seventh grade students at RHMS had the good fortune to hear a firsthand account of the Holocaust from renowned speaker and survivor Jack Adler. Adler is pictured here with many of the students who heard him speak.

Article and photo by RHMS seventh grade student Amanda Brauchler
When most students and citizens learn about the Holocaust, they think about the 1.5 million children that were killed because of the brutality toward humanity. To put that number in perspective, there are only 61,465 students in the Douglas County School District (DCSD). It would take over twenty-four times the amount of students in DCSD to reach that number.
Rocky Heights Middle School (RHMS) had the wonderful opportunity of having a Holocaust survivor come and talk to their seventh grade students. In seventh grade social studies all students are taught about the Holocaust, including learning about the saviors and survivors. This year Laurie Williamson, a seventh-grade social studies teacher at RHMS, asked Holocaust survivor Jack Adler to come and tell the students about his experience at the Auschwitz-Birkenau concentration camp.
"Going into the room, I was nervous because I wasn't sure what I was expecting. He (Adler) seemed very powerful because of the fact that he survived through this all and he was willing to speak about it," said Castle Pines Village resident and seventh grade student Chloe Voss. Instead of focusing his talk on the brutal, inhumane, and dreary events in the camp, Adler stressed to the next generation of this world how everyone on this earth should be treated humanely. "Don't bite the bait that leads to hate," Adler remarked. Adler told the students how you shouldn't despise anyone. You don't have to generally like them, but they at least deserve the right to be treated like a human being.
To learn more about Jack Adler, visit http://www.amazon.com/Y-Holocaust-Narrative-Jack-Adler/dp/0984984232 or view his recollection of his time during the Holocaust at http://iwitness.usc.edu/SFI/Watch.aspx?testimonyID=19243&segmentNumber=0&returnIndex=0&contentView=1&pg=2