Stylish and dapper at the "most exciting two minutes in sports"
May 1, 2019
/
/
Comments Off

on Stylish and dapper at the "most exciting two minutes in sports"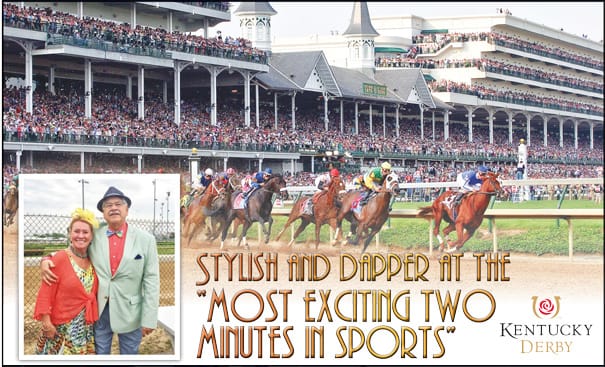 Susan and John Picon attended the Kentucky Derby, looking fashionable and happy. This was Susan's 18th trip and John's first. Having spent the entire day watching race after race, sipping Mint Juleps and wagering on a few of the horses, the Picons both agreed that it was an extraordinary experience that they hope to do again.


By Patte Smith, photos courtesy of John Picon
"The Kentucky Derby is not like anything you can imagine," stated Surrey Ridge resident Susan Picon with her charming southern accent. Born and raised in Kentucky, she proudly declared, "It is the only sporting event in this country that has stayed the same over the years. It began at Churchhill Downs in 1875 and it has not changed, except the riders, horses and attendees," she laughed. "The Run for the Roses has been dubbed the most exciting two minutes in sports, and by golly, it is!
Susan is a seasoned Kentucky Derby-goer who exudes enthusiasm and fun. While she has been to the derby 18 times, John's first time was in 2016 when they traveled to Louisville for the race. They lit up when recollecting their experience at Churchill Downs.
"We were both so excited. I bought John a beautiful linen jacket and pants, a gorgeous shirt and a smart bow tie; that is a must," she stated with a twinkle in her eye. "He looked very dapper."
"I looked like a lollipop," laughed John. "Susan told me 'just you wait' and she was right. I received compliments on my 'stylish' outfit. Who would have guessed?"
Susan declared, "The derby is fashion, fashion, fashion! Most everyone is dressed in spring colors – the men are very classy …" and "the women are absolutely stunning," John jumped in smiling.
From custom-made wide brim derby hats adorned with flowers and feathers to the smaller fascinator hats, the ladies are very chic. "And, no denim at the derby," Susan added.
Susan laughed as she freely admitted that when she was a freshman in college a bunch of fellow friends and students hauled an enormous cooler of beer through the tunnel to the infield "cheap seats" to watch the derby. "I wore a bathing suit – obviously you didn't have to dress fancy to be in the infield. That was my first Kentucky Derby, and over the years I have sat on both sides of the field – it doesn't matter, I always leave there grinning."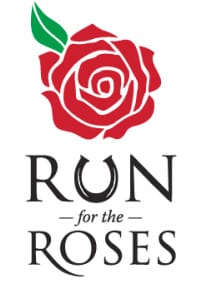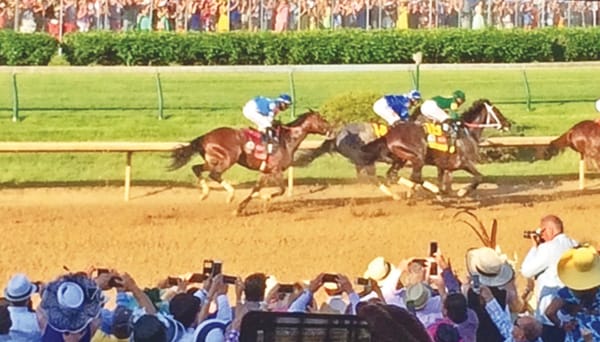 The Picons are horse lovers and have ridden all their lives. "The horses are magnificent, and guests can visit the paddock prior to the race to view them in all their glory, as well as the jockeys in their silks," they explained. "We sat at the first turn and to see these beautiful animals and amazing jockeys charging around the field gave us goosebumps."

While a day at Churchill Downs is about dressing exquisitely, wagering on the horses, and sipping a Mint Julep, the couple smiled, "you get to taste good ole Kentucky bourbon." [Originally, only Whiskey that was distilled in Kentucky was called bourbon. Now there are a few outside of Kentucky referred to as bourbon, but, a true Kentuckian does not believe that for one second.]
"Oh, and another thing," they both piped in, "when you get your first Kentucky bourbon at the bar, bartenders mix each person their very own unique bourbon concoction – you have no idea what it will be, but they are soooo good!"
The Picons stayed the entire day watching race after race that finally culminated with the Run for the Roses. "It was an extraordinary experience and I want to go back," stated John. "There is so much more to tell." Well, hopefully after their next trip to Susan's ole Kentucky home.