May 1, 2019
/
/
Comments Off

on Students of science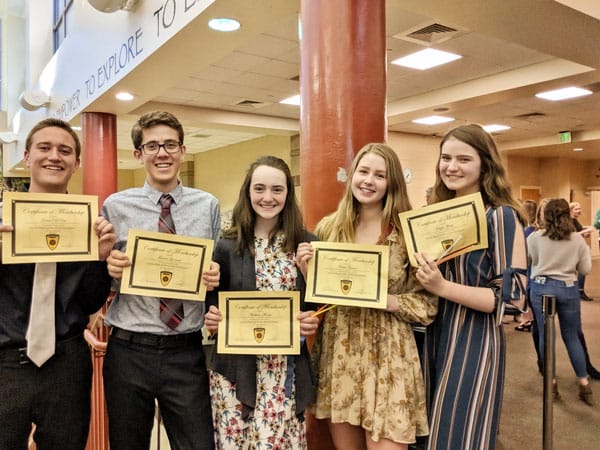 Sophomores (left to right) Grant DeRose, Tanner Leonard, Maddy Merritt, Reese Titensor and Kayla Mash smiled after being inducted into the Science National Honors Society of Rock Canyon High School April 9.


By Maddie Merritt, RCHS intern writer; photo courtesy of Stephanie Leonard
The first class of Rock Canyon High School (RCHS) sophomores for the 2019-2020 school year was inducted, along with a few juniors, into the Science National Honors Society (SNHS) last month. Senior members were inducted earlier this year, as seniors have a limited amount of time to partake in the new society. Four RCHS seniors started the RCHS chapter of the SNHS this school year.
Members of SNHS must maintain a science grade point average of 3.5 or higher and must complete six hours of community service per year of membership. Students partake in numerous elementary school outreach programs in which they perform experiments with students of feeder elementary schools, including Buffalo Ridge and Timber Trail.
"Being part of SNHS is a distinguished achievement that signifies passion and drive for excellence in science," Reese Titensor, Castle Pines resident and a sophomore at RCHS said. "Being a member of SNHS provides a community that opens doors and provides future opportunities. Working with other high schoolers that have the same motives forms bonds and pushes you to do better. Having the honor of being an active member in SNHS is motivation to work harder and achieve more."
Administration sponsors Shawndra Fordham and Susanne Petri teach biotechnology and honors biology classes at RCHS. During the induction, students received certificates of membership, and current board members of the Class of 2019 who established the RCHS chapter spoke to the audience about the society. In addition to local outreach, the society hosts events in which guest speakers from diverse fields of science educate and inform students on the career opportunities that exist today in the scientific world.
The Latin in the SNHS insignia reads, "Fortunate is he who understands the causes of things." The RCHS chapter of the SNHS encourages students to pursue their love of science and explore different regions of the field. In addition, it provides opportunities for students to teach others and inspire elementary schoolers' love of science.
"To me, being a part of SNHS is meaningful because it allows me to connect with other students who are also interested in science and benefit from their ideas," Castle Pines resident and sophomore Tanner Leonard said. " In addition, I am excited to attend lectures on interesting, science-based topics and to explore potential careers in science. I think that SNHS is a great opportunity for students interested in the sciences to pursue their interests while simultaneously giving back to the community through volunteering and outreach."