Surrey Ridge sisters love horsing around!
August 1, 2011
/
/
Comments Off

on Surrey Ridge sisters love horsing around!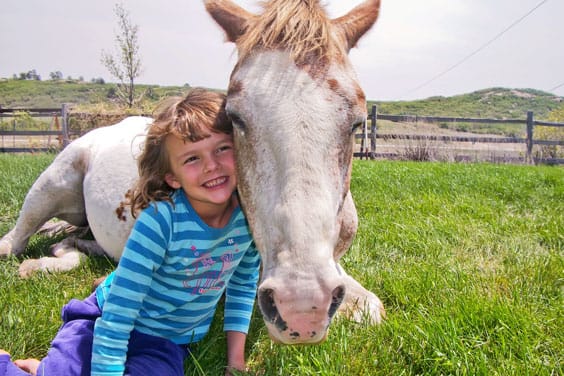 Aloe Modzelewska and her horse "Red" hang out together in their pasture in Surrey Ridge.
By Patte Smith with photos by Sandi Modezeleska
"Whoa" is not in 12-year old Hailey Modzelewska's vocabulary when galloping her horse Boo at full speed around barrels, flags and poles. "I love the thrill of riding fast when competing," laughs Hailey. "It is my horse's specialty and what I do best."
Modzelewska competes in several events at fairgrounds and horse arenas around the Douglas County area. "Competing is fun," she says smiling. "My favorite is the barrels, flags and poles which are timed events, but I also do English and Western showmanship – my mom encourages me to do that!"
Modzelewska and her sister, Aloe, who is six, have been on horseback most of their lives. Their brother, Jack, who is only one-year-old, still has a few years to go before he will find himself perched on the back of a full-size horse. "My family loves animals. We have two horses, two dogs, a cat, two bunnies and a bird," said Hailey.
A soon to be eighth-grader at Rocky Heights Middle School, Hailey first started riding in Texas. The family moved to Colorado a few years ago and in March, 2010 they bought a home in Surrey Ridge. "My mom and I ride the horse paths that wind through the neighborhood — I really love where we live and Colorado."
The younger Modzelewska began competing on lead line barrels at age three and participated in her first barrel, flags and poles race at the Elizabeth Community Rodeo this past May. She also has a passion for mutton bustin' and is looking forward to this event at the Douglas County Fair and Rodeo in August.
Both girls are involved in 4H programs as well as their mom, Sandy. "My husband Jon and I believe that having the girls involved with horses, animals and 4H teaches them responsibility and patience. The 4H motto is to learn by doing – we really encourage the girls to be independent in taking care of their critters – they both have a natural gift with animals."
The older Modzelewska sister is trying out for Douglas County Rodeo princess this year. The competition, which is sponsored by the Douglas County Fair and Rodeo Royalty program, involves riding, public speaking and making public appearances. She is also training Boo to perform in the opening ceremonies at rodeos. "I know Boo can do it. I have a lot of faith in him – he is great horse."
So rodeo-goers keep a sharp lookout in August, as the two Modzelewska sisters tear around the Douglas County Fairgrounds bustin' mutton, flying around barrels and, hopefully, one will be sporting a tiara!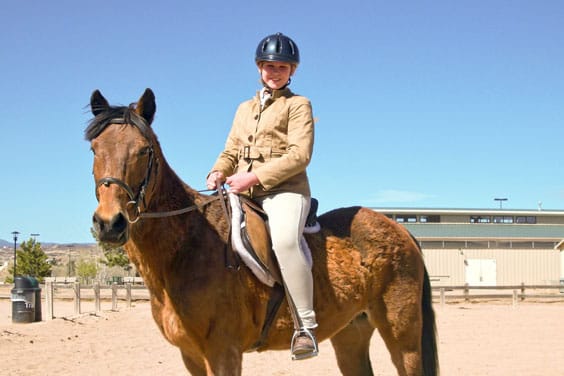 Rocky Heights Middle School student Hailey Modzelewska and her very special horse, Boo, competing in the buckle series at the Elizabeth Rodeo.